India :  Muslims across India marked Eid al-Fitr on Tuesday by offering prayers outside mosques, even as the celebrations this year came in the backdrop of a series of recent attacks against the community during the month of Ramadan.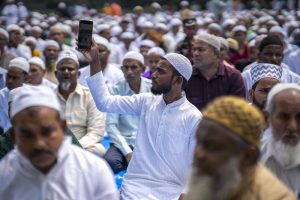 "We will not have the same kind of festivity" this time, said Mohammad Habeeb ur Rehman, a civil engineer in India's financial capital, Mumbai. "This is the most painful Eid with worst memories for Indian Muslims," he added.
Anti-Muslim sentiment and attacks have surged across the country in the last month, including stone throwing between Hindu and Muslim groups during religious processions and subsequent demolitions of a number of properties mostly belonging to Muslims by authorities.