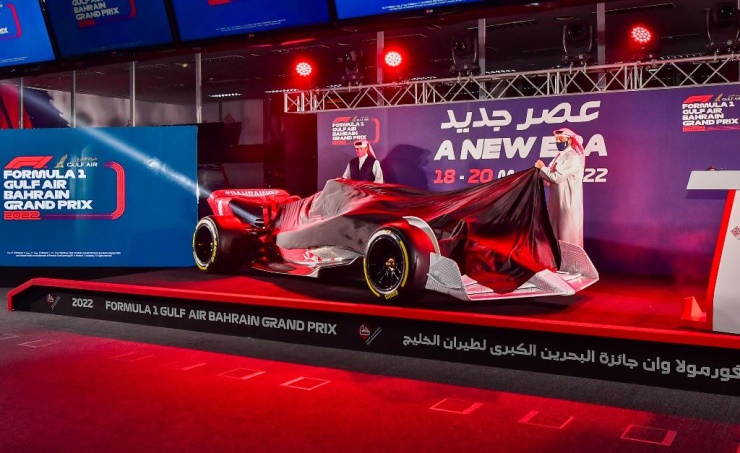 Bahrain :    Bahrain International Circuit (BIC) this evening unveiled details of the 2022 Formula 1 Gulf Air Bahrain Grand Prix, a once in a generation event for fans. An incredible line-up of attractions both on and off the track was announced for the race weekend taking place 18 to 20 March in Sakhir as the first race of "A New Era" in F1.
The launch of the 18th edition of the Gulf Air Bahrain Grand Prix took place at a special press conference held today at BIC's Media Centre, which included the unveiling of the new 2022 F1 car, with a special Bahrain livery.
Addressing the media and guests were BIC Commercial Director Sherif Al Mahdy and Gulf Air Marketing Director Mohamed Jamsheer, in the presence of Sheikh Salman bin Isa Al Khalifa, Chief Executive of Bahrain International Circuit and Gulf Air's Acting Chief Executive Officer Captain Waleed Al Alawi.
These included the announcement of Grammy Award-winning DJ and producer Afrojack as the first megastar concert act of the weekend.
Sheikh Salman bin Isa Al Khalifa, Chief Executive of Bahrain International Circuit, said: "Our 2022 race is a landmark moment for the sport. Fittingly being held under our slogan 'A New Era', the race will usher in the next chapter of F1 following perhaps the biggest revolution of rules in the history of the sport.
"The new seasons follows the epic championship battle we witnessed last season, with the whole world still talking about F1. In addition to the excitement on track, we have put together a mix of incredible concerts and entertainment, suitable for fans of all ages.
"Together with our partners at Gulf Air and all of Team Bahrain we are honoured and proud to be the hosts of such a landmark event. We urge fans across the world to get booking their tickets as soon as possible as seats are already selling fast under our Early Bird discount.
Captain Waleed AlAlawi, Acting Chief Executive Officer of Gulf Air, commented: "The race has always been an important global event for the Kingdom of Bahrain and Gulf Air and we are proud of have been the Title Sponsor since 2004 making this our seventeenth race. Together, we collectively navigated through a strange 2020 but were proudly one of the few airlines globally that continued to fly people around our network and supported vaccines, medical and food supplies to Bahrain".
"This did not prevent us from celebrating our 70th anniversary in the 2020 race including a flypast with our iconic vintage livery of the 70th anniversary and in 2021, we made history together by performing a lower emission flypast to start the race using sustainable aviation fuel as we unveiled our new slogan 'A class of our own' to the globe", he added.
Captain AlAlawi concluded "This year, there is so much to look forward to as we proudly announce the return of our exclusive Formula One packages on gulfair.com in coordination with Bahrain Tourism and Exhibition Authority and the Bahrain International Circuit! This would allow eligible visitors to book a flight, accommodation, 3-day pass to the race and transport to and from the race".
Grammy winner Afrojack set to hit the BIC stage
BIC is delighted to announce that Grammy Award-winning producer, songwriter and DJ Afrojack is set to put on a spectacular concert over the Grand Prix weekend. Afrojack is one of the world's most innovative and sought-after artists. He continues to shatter boundaries that push music into bold new directions. The Dutch-born genre-bending musician has co-created major hits for such artists as Beyoncé, Pitbull, will.i.am and David Guetta.
He was named one of the 50 Most Important People in Electronic Dance Music (EDM) by Rolling Stone magazine, and was placed on the Forbes "30 Under 30" list, while also becoming only the second DJ ever to cement his place into the Hollywood Walk of Fame.  He continues to make new records and hit new heights, and consistently appears in the Top 10 list of the Top 100 DJs Worldwide.
Afrojack is the first internationally renowned artist to be announced for this year's F1 weekend at BIC and will be lighting up the stage at the F1 Village vending area on the Friday evening. All Bahrain Grand Prix ticket-holders will be able to attend the concerts at no extra cost