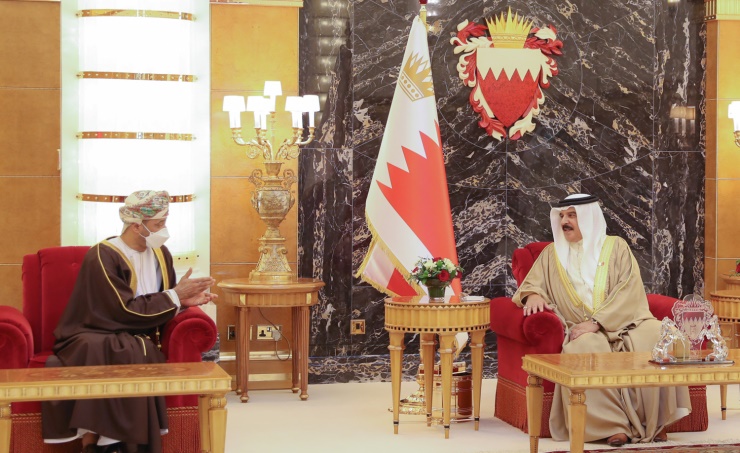 Bahrain :  His Majesty King Hamad bin Isa Al Khalifa received at Sakhir Palace today Omani Foreign Minister, Bader bin Hamad bin Humood Al Busaidi, who conveyed to him the greetings of HM Sultan Haitham bin Tariq Al Said.
The meeting was attended by His Royal Highness Prince Salman bin Hamad Al Khalifa, the Crown Prince and Prime Minister. It was held on the occasion of the minister's visit to the Kingdom of Bahrain to participate in the 7th meeting of the Bahraini-Omani Joint Ministerial Committee.
HM the King took pride in the deep-rooted historical fraternal relations between the Kingdom of Bahrain and the Sultanate of Oman, praising bilateral cooperation at all levels. He asked the Omani minister to convey his greetings to HM Sultan Haitham bin Tariq Al Said and his best wishes to the Omani people of further growth and prosperity.
HM the King commended the key and constructive role of HM Sultan Haitham bin Tariq Al Said in boosting bilateral relations, praising the remarkable achievements witnessed by the Sultanate of Oman under his leadership. He lauded the advanced level of the Bahraini-Omani relations and their perpetual growth thanks to common keenness to bolster them.
HM the King praised the positive outcome of the Bahraini-Omani Joint Ministerial meeting in boosting cooperation and integration in various political, economic, commercial and cultural fields.
The meeting also cast light on regional issues of common concern.
The Omani Foreign Minister expressed thanks and respect to HM the King for the gracious welcome and hospitality, commending his efforts to promote bilateral fraternal ties. He stressed strong and growing relations between both countries thanks to the leaderships' support and keenness to promote bilateral cooperation and serve common interests.