Bahrain : His Majesty King Hamad bin Isa Al Khalifa received, at the Al-Safriya Palace today, the Prefect of the Congregation for the Evangelization of People in the Vatican, Cardinal Luis Antonio Tagle, Apostolic Nuncio to Kuwait, Qatar and Bahrain, Eugene Martin Nugent, and Vicar Apostolic in the Apostolic Vicariate of Southern Arabia and Apostolic Administrator of Northern Arabia, Bishop Paul Hinder, on the occasion of their visit to the kingdom to attend the opening of the new cathedral in Bahrain.
Cardinal Luis Antonio Tagle handed over to HM the King a written message addressed to him by His Holiness Pope Francis.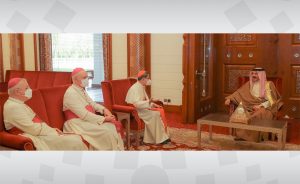 In the letter, Pope Francis expressed his thanks and appreciation to HM King Hamad for the opening of the Cathedral of Our Lady of Arabia in Bahrain, praising HM the King's interest in strengthening relations among different religions and cultures, and praying to God the Almighty to preserve HM the King and the people of Bahrain, as well as to bless HM's efforts to promote peace and love among all.
Cardinal Luis Antonio Tagle conveyed to HM King Hamad greetings from His Holiness Pope Francis, and his wishes of ever-lasting progress and prosperity to Bahrain and its people.
HM the King requested Cardinal Luis Antonio Tagle to convey his greetings to the Supreme Pontiff, wishing him abundant health, wellness and successful noble humanitarian efforts.
HM King Hamad praised the important role played by His Holiness Pope Francis in fostering dialogue and understanding among religions and civilisations, as well as in promoting the values of human fraternity, tolerance and coexistence among all, reiterating the kingdom's constant keenness to strengthen the existing friendship and cooperation relations with the Vatican State, in addition to exchanging visits with it in order to contribute to consolidating love and peace.
HM the King welcomed those present, and praised their participation in the inauguration of the new cathedral in the kingdom, noting that the event embodies Bahrain's civilisational and humanitarian role, as well as hosting of the houses of worship of various religions for many decades, reflecting its people's tolerance, love and respect for all throughout the country's long history.
Those present expressed thanks and appreciation to HM the King for HM's constant keenness to promote rapprochement among cultures and religions, lauding Bahrain's progress strides, and stances in support of coexistence among religions.