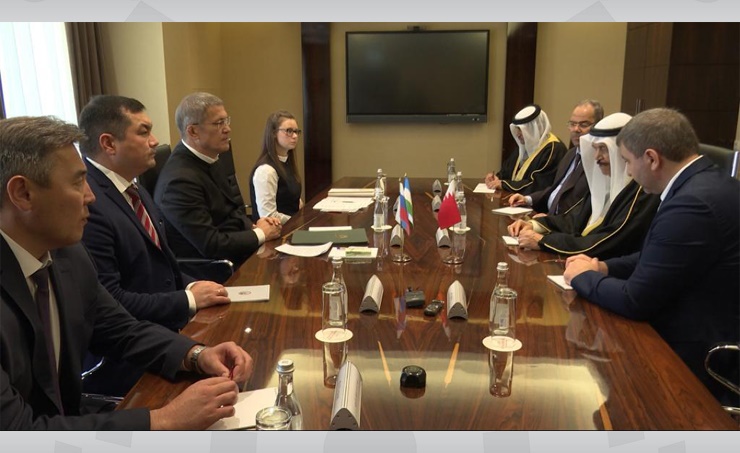 Ufa : On behalf of His Majesty King Hamad bin Isa Al Khalifa, Supreme Council for Islamic Affairs (SCIA) Chairman Shaikh Abdulrahman bin Mohammed bin Rashid Al Khalifa attended celebrations marking the 1100th anniversary of the adoption of Islam by the Russian Republic of Bashkortostan.
The celebrations which started on September 21, will run until Friday, in Ufa, the capital and largest city of Bashkortostan.
The SCIA Chairman met the President of Bashkortostan Radiy Khabirov and conveyed to him greetings from HM King Hamad, wishing Bashkortostan and Russia further development, progress and prosperity.
President Khabirov also extended greetings to HM the King, lauding Bahrain's aspirations to further bolster relations between the two countries in all fields.
He welcomed the participation of SCIA Chairman Shaikh Abdulrahman in the celebrations.
The SCIA Chairman participated in the 14th International Conference held in conjunction with the anniversary under the theme "Unity of the Source of Messages Against Extremism and Terrorism for Peace and Cooperation on Righteousness and Piety – Dialogue and Cooperation".
Addressing the event, he noted that Bahrain had adopted Islam in 630.
"The arrival of Islam to your country and its voluntary and faith entry into it 11 centuries ago undoubtedly confirm the heritage of peace, coexistence and openness that bring our two friendly countries together," he said.
He praised the leading role of Muslim peoples and major Islamic institutions around the world in confronting campaigns that spread atheism and moral decadence that threaten families, societies and values.
On Thursday, Shaikh Rashid took part in the inauguration of  the new building of the Russian Islamic University affiliated to the Central Religious Authority of Muslims of Russia.
On Wednesday, he met Shaikh Al-Islam Talaat Safa Taj Al-Din, the General Mufti and Head of the Central Religious Authority of Muslims of Russia.
The two sides discussed the good relations binding the two countries and their peoples, and ways to develop cooperation between Bahrain's Supreme Council for Islamic Affairs and the Central Religious Administration for Muslims of Russia.