Manama: In line with what has been previously announced on 31 January 2022, and following approval by the Government Executive Committee, the National Medical Taskforce for Combatting the Coronavirus (COVID-19) today announced the adoption of the Green Alert Level starting from 15 February 2022.
The National Medical Taskforce noted that the decision was taken following a review of the daily average number of cases in intensive care. If the rolling average of positive cases in intensive care is 50 or less for 14 days, it is deemed safe to move to the Green Alert Level.
The Taskforce noted that Bahrain had previously moved to the Yellow Alert Level as a precautionary measure, despite a low rolling average of positive cases in intensive care.
The National Medical Taskforce noted the spread of the Omicron variant has caused a global spike in cases, including in Bahrain. However, a low number of cases in the Kingdom require medical treatment or are in intensive care. The Taskforce indicated that this is due to the success of the Kingdom's National Vaccination Campaign.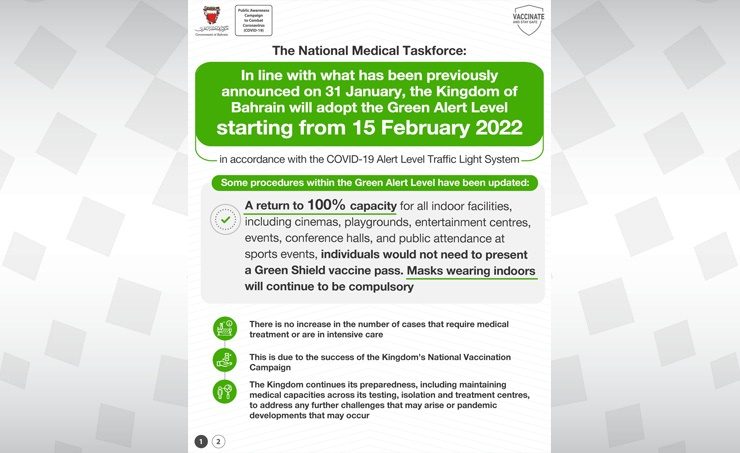 The National Medical Taskforce reiterated the Kingdom's preparedness, including maintaining medical capacities across its testing, isolation and treatment centres, to address any further challenges that may arise or pandemic developments that may occur.
The Taskforce explained that some procedures within the Green Alert Level have been updated, including a return to 100% capacity for all indoor facilities, including cinemas, playgrounds, entertainment centres, events, conference halls, and public attendance at sports events. Furthermore, individuals would not need to present a Green Shield vaccine pass. However, masks wearing indoors will continue to be compulsory and all precautionary measures that fall under the Green Alert Level should be adhered to.
The Taskforce noted that all procedures can be viewed on the Ministry of Health's website: healthalert.gov.bh.
The Taskforce concluded by stressing the importance of community awareness in supporting national mitigation efforts and the necessity to adhere to precautionary measures, including getting fully vaccinated and receiving a booster shot.