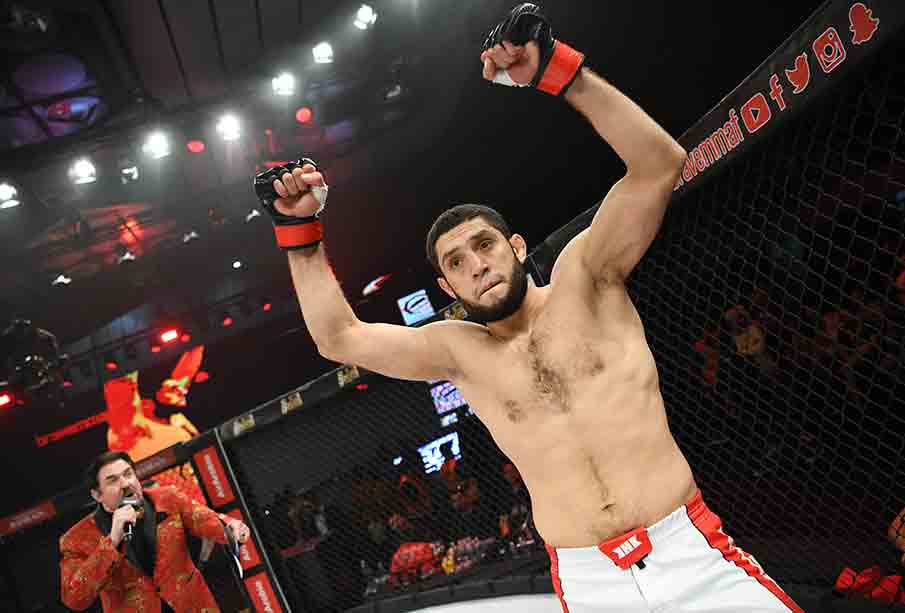 One of the biggest figures in His Highness Shaikh Khaled bin Hamad Al Khalifa's project in Dagestan, Ikram Aliskerov, the captain of the KHK Dagestan team, will have the opportunity to secure a title shot in his return to the BRAVE CF action. He has been recognized as one of the best Middleweight fighters in the world, which was proved again in his last fight.
After returning from Welterweight after two fights (with one victory and his lone professional defeat), Aliskerov dominated Diego Gonzalez in the main event of BRAVE CF 33, in Saudi Arabia, to return to winning ways and re-establish himself as a force to be reckoned with at 185 pounds (84 kg).
The Russian powerhouse will meet his compatriot Denis Tiuliulin at BRAVE CF 41, on September 17th, in the Kingdom of Bahrain. Another win for him will propel him to the top of the list of challengers to the winner of the main event, between champion Daniel Gaucho and challenger Mohammad Fakhreddine. Aliskerov will certainly be looking with interest at the main event of BRAVE CF 41, especially if he beats Tiuliulin decisively.
Owner of the record for most BRAVE CF Middleweight division, Ikram feels as the uncrowned champion, but a nice and shiny belt will make all the difference for the sambo world champion, who has been inspiring the youth back home through the KHK Dagestan program and has become a father figure to many young fighters in the region.
Named as an unofficial captain for the KHK Dagestan team, he has been taking care of some parts of training for younger fighters, some of whom will also be in action at the Kombat Kingdom series, such as Magomed Idrisov and Abdulmanap Magomedov, who make their professional debuts after stellar amateur careers.