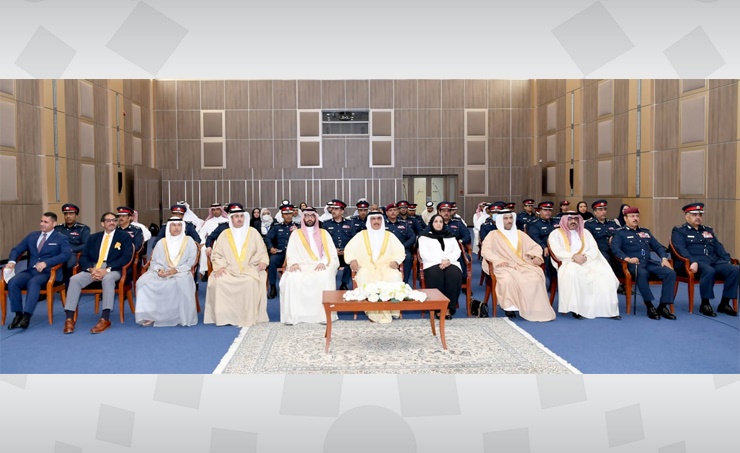 Interior Minister and Chairman of the National Anti-Drug Committee, General Shaikh Rashid bin Abdullah Al Khalifa, today attended the celebration to mark the International Day against Drug Abuse and Illicit Trafficking.
The celebration was attended by the Minister of Youth and Sports Affairs, Minister of Justice, Islamic Affairs and Endowments Affairs, Information Affairs Minister, Interior Ministry's Undersecretary for Nationality, Passports and Residence Affairs, Inspector-General, Deputy Public Security Chief and senior officials.
The Interior Minister expressed thanks and appreciation for the sincere efforts of the committee and the role of the Anti-Narcotics Directorate and all security authorities in protecting the community.
The minister highlighted the continuous work to launch a national anti-drug interactive initiative for all segments of society. He highlighted that combatting narcotics is the community's responsibility through the cooperation of all organisations within an integrated community partnership system.
He noted the importance of ongoing security awareness within an innovative approach to combat negative phenomena and address their impact on civic peace. He hailed the launch of the second edition of the National Plan to Combat Narcotics and Psychotropic Substances to contribute to the success of the first edition launched in 2015.
The Director-General of Criminal Investigation and Forensic Science delivered a speech to mark the launch of the second edition of the plan under the supervision of the committee and the participation of 24 government and national organisations. He said the plan's first phase achieved a 97% success rate by implementing 257 initiatives. The accomplishments reflect the security, legislative and preventative efforts of the directorate in cooperation with concerned security authorities and constructive community partnership.
In this context, GCC Regional Director of the Office of the United Nations Office on Drugs and Crime (UNODC), Hatem Ali, hailed the cooperation between Bahrain and the office to meet international standards.
Director of the Arab Office to Fight Narcotics and Organised Crimes, Brigadier Mohammed Ali Al Rawashda, asserted the accomplishments of the directorate. He also hailed the active community partnership between NGOs in Bahrain to enhance awareness of the risks of drug abuse.
A documentary was shown on the success of the first edition of the plan and the efforts of the team assigned to follow the achievements of the plan's goals.
After that, the Interior Minister launched the second edition of the plan 2022-2026 that includes community security partnership to fight drug abuse, supervision development and reinforcement of the role of the community, media and religious organisations.
The Interior Minister honoured affiliates of security directorates for their anti-drug roles. He wished them the best in serving the nation.