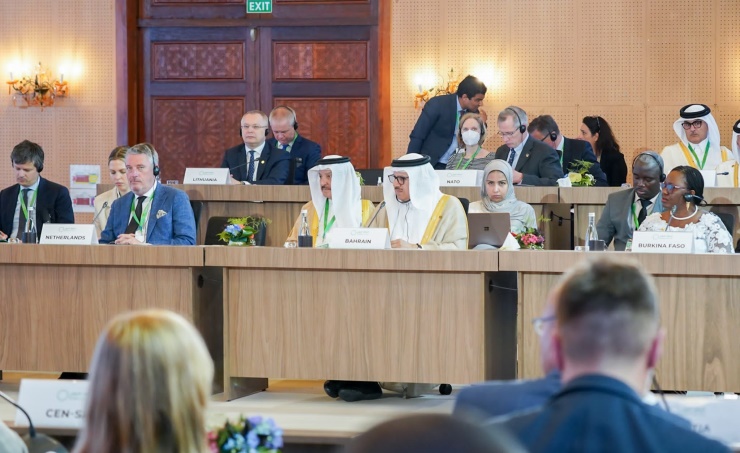 Minister of Foreign Affairs, Dr. Abdullatif bin Rashid Al-Zayani, took part in the Ministerial Meeting of the Global Coalition against Daesh, which was held here today.
The meeting was co-chaired by the Minister of Foreign Affairs, African Cooperation and Moroccans Abroad of the Kingdom of Morocco, Nasser Bourita, and the Under Secretary of State for Political Affairs of the United States, Victoria Nuland, and was attended by high-level representatives from the 85 members and international partners.
The Minister of Foreign Affairs delivered the speech of the Kingdom of Bahrain at the conference, in which he stressed the importance of continuing the work of the Global Coalition and moving forward to build on its achievements, and the need to carry on efforts to achieve the desired goals, including the current focus on the new borders of Daesh in Africa and other regions.
He stated that despite COVID-19 and world events, the Coalition has demonstrated a fine example of how it has evolved as a global community to adapt to emerging challenges.
He added that it is reassuring to see how the experiences gained have been tailored to the African context, which confirms the importance of concerted efforts and joint work among member states by engaging local communities to understand cultural nuances.
He said that at the same time, Daesh is also trying to adapt to its new reality by understanding new breading and operating grounds, and by creating alliances with other likeminded terrorist groups.
The Foreign Minister highlighted the importance of discussion among member states in order to expand the scope of work to include other terrorist operators and interlocutors that could provide Daesh with the support it needs as it strives to recover from its losses and defeats.
He said that the Kingdom of Bahrain can attest to the danger of terrorism to national and international peace, which requires adopting a comprehensive approach to dealing with terrorist groups and networks of support, financing, propaganda and ideology, reiterating Bahrain's unwavering commitment to the fight against terrorism of all kinds, and its continuous support for international efforts in this field, through its membership in the Global Coalition to Defeat Daesh.