Team Bahrain has had a phenomenal start to the year as they progressed through to the first place of the MMA ranking after victorious campaigns at the Asian and African Open Championships. It is the first time the country has topped the list after only four years of the official beginning of a mixed martial arts program, led by the vision of His Highness Sheikh Khaled bin Hamad Al Khalifa.
And the groundbreaking achievement didn't go unnoticed at the ongoing European Championships, which are being held in Rome, Italy.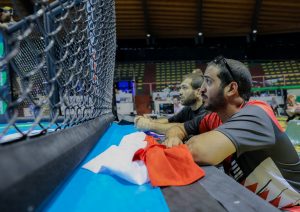 The IMMAF-WMMAA and national federations celebrated Bahrain's topping of the world rankings and honored the efforts of the Bahrain MMA Federation, and His Highness. A message of congratulations to Team Bahrain was put out on the big screen during all matches, as well as members of the squad were individually congratulated by their opposite fighters, coaches, and directors of the IMMAF-WMMAA.Meanwhile, on the second day of competitions that included Team Bahrain, six of the country's competitors kept their medal hopes alive, with Magomed Idrisov, Abdulmanap Magomedov, Shamil Gaziev, Murad Guseinov, Abdulla Alyaqoob and Ramazan Gitinov each picking up crucial wins in Rome.