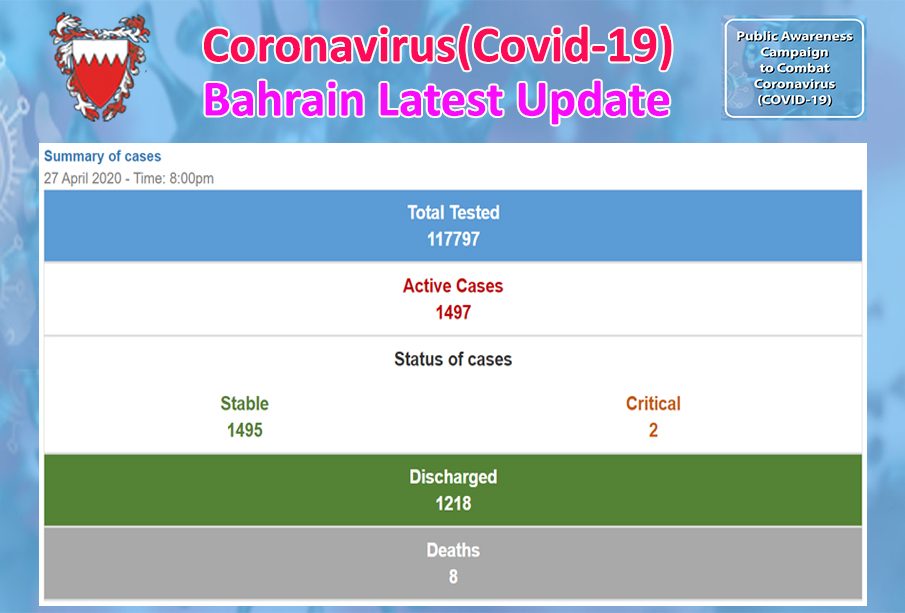 Fifteen new cases of Covid-19 have been registered, making today's toll to 76. According to MOH, 51 of them are migrant workers, three local contacts, seven are from abroad and the remaining are unspecified.
No new recoveries have been reported in Bahrain from 1 pm to 8 pm, making today recoveries standstill at 29.
Bahrain tested a total of 117797 until now. There are 1497 active cases. These include 1495 stable cases and 2 critical cases. 1218 people have been discharged. Only 8 deaths have been reported until now. This takes the total cases in Bahrain to 2723.
Read the New Guidelines in Bahrain – Click Here
Bahrain has announced the death of a 36-year-old expatriate male on 23rd April, a registered active case of Coronavirus (COVID-19) suffering from underlying and chronic health problems.
The deceased male had been placed in isolation and received extensive 24-hour treatment from a specialised medical team.
About the COVID-19 Deaths
Read more about the eighth death – Click Here
Read more about the seventh death – Click Here
Read more about the sixth death – Click Here
Read more about the fifth death – Click Here
Read more about the fourth death – Click Here
Read more about the third death – Click Here
Read more about the second death – Click Here