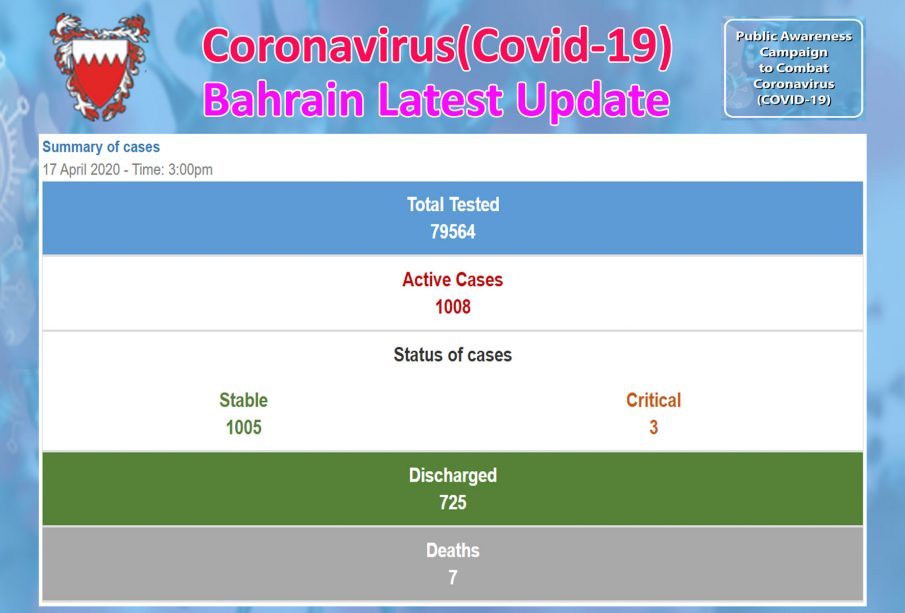 The recovery of 22 people and 40 new cases of COVID-19 have been registered in Bahrain today. Only two of these cases involve migrant workers, while 10 are among individuals who have come in contact with positive cases and 22 tested positive after arriving from Iran as part of the government's evacuation plan.
Bahrain tested a total of 79564 until now. There are 1008 active cases. These include 1005 stable cases and 3 critical cases. 725 people have been discharged. Only 7 deaths have been reported until now.
The Ministry of Health announced the death of a 60-year-old Bahraini citizen on 14th April, who has underlying chronic diseases and health issues.
The deceased got the necessary treatment and care around the clock by the specialized medical team and all the cases in isolation and treatment centers.
About the COVID-19 Deaths
Read more about the seventh death – Click Here
Read more about the sixth death – Click Here
Read more about the fifth death – Click Here
Read more about the fourth death – Click Here
Read more about the third death – Click Here
Read more about the second death – Click Here