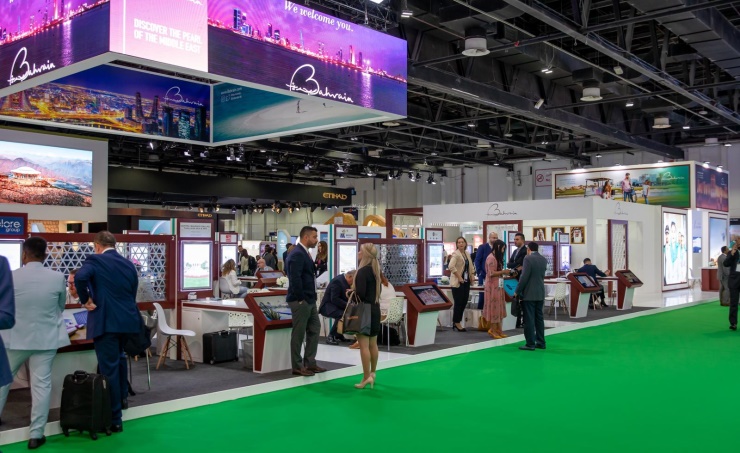 Bahrain Tourism and Exhibition Authority (BTEA) said that it had a significant and successful presence in the Arabian Travel Market 2022 exhibition in Dubai, through Bahrain's national pavilion, one of the largest among the 158 pavilions that took part in the international tourism event.
The Bahraini pavilion featured 21 exhibitors, led by national carrier Gulf Air, and included tourist facilities, hotels, resorts, tourism companies, and tour operators.
BTEA Deputy Chief Executive Officer Fatima Al Serafi attributed the success of Bahrain's participation to the participants' harmonized efforts to bring Bahrain's tourism sector to the world's attention and to highlight its privileges relying on civilization, diversity, heritage, and modernity.
"ATM 2022 provided an excellent opportunity to strengthen relationships with tourism sector partners in the region and around the world, as well as to form new partnerships," she said.
"The goal was to attract more tourists and visitors to Bahrain, support the tourism sector's recovery plans following the challenges of the previous two years, and discover new opportunities for success and growth."
The Bahraini delegation had meetings with the CEO of the Saudi Tourism Authority Fahad Hamidaddin, the CEO of Dubai Corporation for Tourism and Commerce Marketing Issam Kazim and the Undersecretary for Tourism at Oman's Ministry of Heritage and Tourism Azzan bin Qassim bin Mohammed Al Busaidi
Convergent visions and joint action plans for promoting tourism in the region were discussed  during the meetings.
Meetings were also conducted with several tour companies that have signed cooperation agreements with BTEA. Strategies to activate promotional campaigns in several regions this summer were also addressed, with plans to launch campaigns in Spain, Italy, India, Israel, and Russia in June.
The Bahraini tourism facilities in the pavilion also had successful work sessions with their regional and international counterparts and reviewed cooperation in boosting business and attracting more visitors to Bahrain.
During a panel discussion on "Building a Sustainable Business Itinerary," Al Serafi highlighted BTEA's initiatives in sustainable tourism.
BTEA's Director of Marketing and Promotions Maryam Toorani highlighted Bahrain's accomplishments in tourism gender equality at a panel discussion, "Enhancing women's presence in the tourism business".
The Bahraini pavilion attracted over 20,000 visitors during the four-day exhibition. Opportunities for cooperation and partnership between the Bahraini entities and nearly 1,500 companies were reviewed.