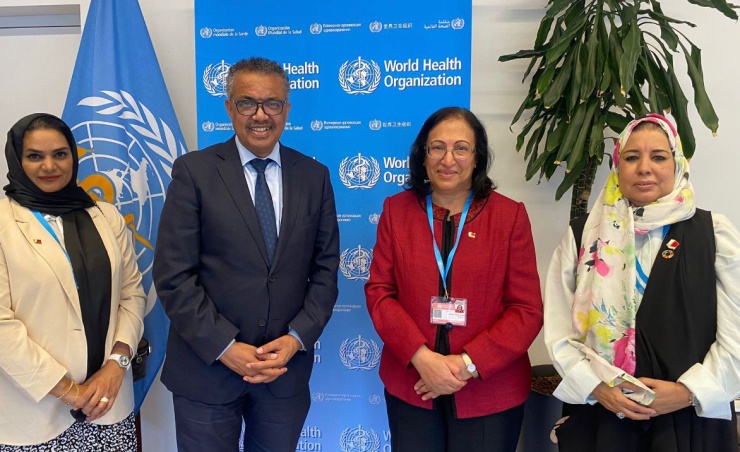 Bahrain Health Minister, Faeqa bint Said Al-Saleh, today met the Director-General of the World Health Organisation (WHO), Dr. Tedros Adhanom Ghebreyesus, on the sidelines of the 75th World Health Assembly, currently held here.
The minister conveyed the congratulations of His Majesty King Hamad bin Isa Al Khalifa and His Royal Highness Prince Salman bin Hamad Al Khalifa, the Crown Prince and Prime Minister, to WHO chief following his re-election to his post.
She wished WHO every success in its next session, affirming the Health Ministry's support for all WHO's programmes and activities.
Minister Al-Saleh commended Dr. Tedros Ghebreyesus' outstanding management of WHO, especially during the COVID-19 pandemic.
The two sides discussed areas of cooperation between Bahrain and the World Health Organisation, including the future plans and programmes to confront outbreaks and infectious diseases.
WHO chief expressed thanks and appreciation to Bahrain's government and people, commending its efforts in support of WHO's role, particularly in combating the COVID-19 pandemic.
He indicated that the kingdom is known for its successes in the fields of medicine and healthcare thanks to the government's tireless efforts to support the health and treatment system.
He expressed his readiness to develop health work plans and strategies, commensurate with the global health goals.