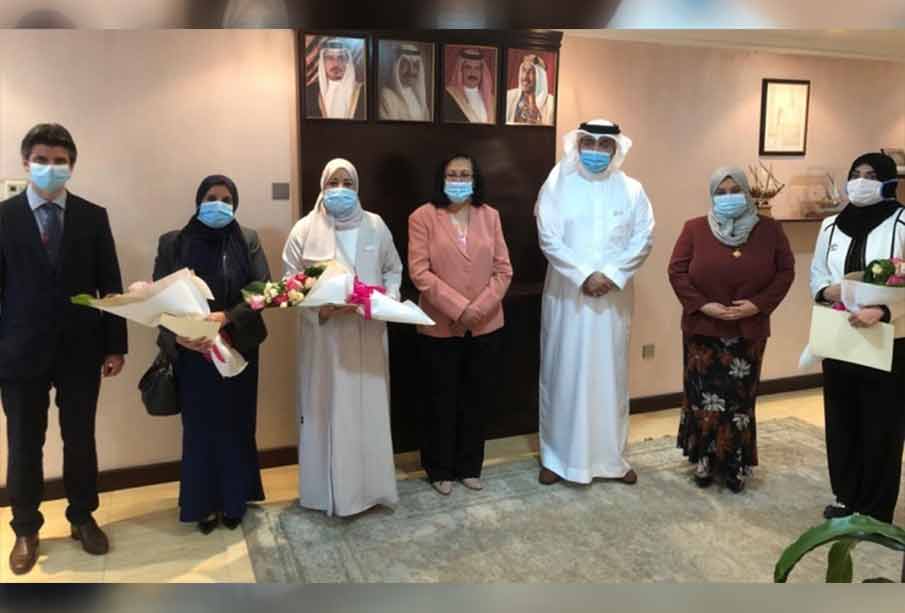 Health Minister Faeqa bint Said Al-Saleh received Dr. Jameela Al-Salman and Dr. Najat Abul Fate and congratulated them on winning the first edition of the Khalifa bin Salman Al-Khalifa Award for Bahraini Doctors in its first category ("Innovation and Creative Award in Therapeutic, Clinical and Medical Research Award".
The minister also expressed congratulations to Dr. Mariam Ebrahim Al-Hajeri, recipient of the award in its second category ("Extended Loyalty and Giving Award).
In attendance were Health Ministry Undersecretary Dr. Waleed Al-Manea, Assistant Undersecretary for Primary  Care Dr. Manal Al-Alawi and Government Hospitals Acting Chief Executive Officer Dr. Ahmed Mohammed Al-Ansari.
Al-Saleh conveyed to the laureates congratulations from His Royal Highness Prime Minister Prince Khalifa bin Salman Al-Khalifa, as well as greetings from HRH Premier's Court Undescretary, Award General Secretariat Chairman Shaikh Mohammed bin Rashid bin Khalifa Al-Khalifa.
She stressed the importance of the award, which was launched to pay tribute to Bahraini doctors in recognition of devotion and sacrifices, hailing the laureates' scientific achievements and great medical contributions which earned them the award.
The medical prize-winners expressed deepest thanks and gratitude to HRH the Premier, praising the minister and all staff for their support. They described the award as a source of pride for all the Bahraini competent practitioners as well as a token of support in the prosperous era of His Majesty King Hamad bin Isa Al-Khalifa.