9 JULY 2021 – Starvision News 3D PRO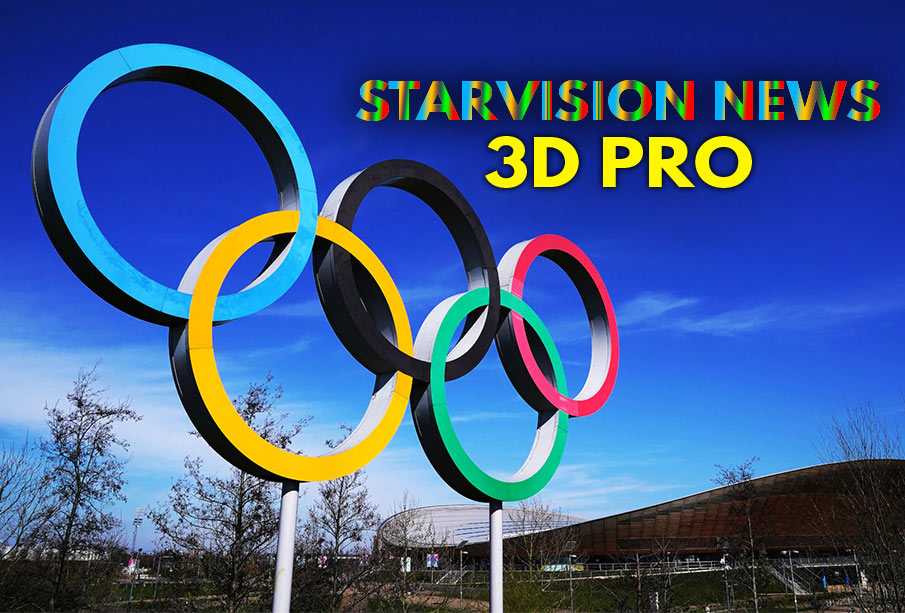 Tokyo Olympics will be held without spectators
The Olympics will take place without spectators in host city Tokyo, organisers said on Thursday, as a resurgent coronavirus forced Japan to declare a state of emergency in the capital that will run throughout the event.
Although widely expected, the move marked a sharp turnabout from just weeks ago, when organisers said they aimed to hold the global sporting showpiece with some spectators, and all but robs the July 23 to Aug. 8 Games of their last vestige of pomp and public spectacle.
Prime Minister Yoshihide Suga said it was essential to prevent Tokyo, where the highly infectious Delta COVID-19 variant was spreading, from becoming the source of another wave of infections. Venues outside the greater Tokyo metropolitan area would allow small numbers of spectators, and the policy for the Paralympics will be decided next month, the government said.
"It is regrettable that we are delivering the Games in a very limited format, facing the spread of coronavirus infections," Tokyo 2020 President Seiko Hashimoto said following talks between government officials, Tokyo organisers and Olympic and Paralympic representatives. "I am sorry for those who purchased tickets."
Britain has withdrawn nearly all its troops from Afghanistan, says PM Johnson
Most British soldiers have been pulled out of Afghanistan, ending Britain's official role in a two-decades long conflict even as the Taliban are gaining ground and amid fears the departure of foreign soldiers could lead to civil war.
"All British troops assigned to NATO's mission in Afghanistan are now returning home," Prime Minister Boris Johnson told parliament, praising what British forces had achieved while at the same time acknowledging the "perils" facing Afghanistan.
"For obvious reasons, I will not disclose the timetable of our departure, though I can tell the house (parliament) that most of our personnel have already left," Johnson said.
British forces were first deployed to Afghanistan in 2001 following the Sept. 11 attacks on the United States and played a major role in combat operations until 2014. A total of 457 British soldiers were killed in the country. Johnson said he did not underestimate the challenges facing Afghanistan, adding the government would continue to provide development assistance.
NPRA to use new residence permit sticker
The Nationality, Passport and Residence Affairs (NPRA) will use the new residence permit sticker from Sunday, July 11. The old sticker is valid until its expiry date, and there is no need to change it.
The sticker could be placed at any branch without the need to book an appointment, It also could be placed at the exit points of Bahrain.
New International turf series introduced to Bahrain race program
Bahrain's horse racing program is rapidly evolving due to the unwavering support it continues to receive from His Majesty King Hamad bin Isa Al Khalifa and His Royal Highness Prince Salman bin Hamad Al Khalifa, the Crown Prince and Prime Minister.
The robust horseracing infrastructure the Kingdom proudly boasts is only one of the wide-ranging attributes that make it an ideal hub for the sport to flourish and expand locally, regionally and internationally.
Building on this development, and the success of the Bahrain International Trophy, a brand-new turf series will begin in Bahrain from December 2021.
Ten new races have been introduced to the Bahrain race program specifically targeting international horses rated 85-100.
The Bahrain Turf Series will be linked together and run alongside the best racing in Bahrain, including the prestigious King's Cup, Crown Prince's Cup and National Day Grade One.
The race series will have a total of £550,000 prize money fund. £50,000 is allocated per series race with a minimum of £30,000 to the winner.
The turf series will also have a bonus point system attached depending on where horses finish.
The points will be added and at the end of the series the owner of the horse with the most points in each pot will get £15,000 and the trainer of the horse with most points will get £10,000. This will mean an extra £50,000 in total prize money.
This will not only increase the competitiveness of the races held in the Kingdom, but also make more rewarding the participation of Bahraini jockeys and owners alike. With wider international participation, Bahraini jockeys and owners will be able to add to their rich horse racing expertise and showcase their local talent on a global level.
The Rashid Equestrian and Horseracing Club will oversee all racing in Bahrain, providing a top class concierge service for owners with horses running and trained in Bahrain. The Bahrain Turf Series will offer exclusive benefits and opportunities to owners ensuring an excellent experience of Bahrain.
Ahead of the new Turf Series starting, the third running of the Bahrain International Trophy will take place on Friday 19th November 2021 at Sakhir Racecourse.
The race has attracted high-quality international entries in its first two years, including five individual Group 1 winners in 2020. Last year's race was won by the locally-trained Simsir who just edged out Global Giant (John Gosden) and Sovereign (Aidan O'Brien).
The race is open to horses rated over 95 and is run over a distance of 2000 meters (10 furlongs). There will be three races which will grant "Automatic Invitation" to the winners even if not originally entered:
●      Friday August 13th The Curragh – Fitzdares Royal Whip Stakes (G3)
●      Saturday August 21st York – The Sky Bet and Symphony Group Strensall Stakes (G3)
●      Saturday October 9th Newmarket – The Darley Stakes (G3)
Entries for the race close on Tuesday 5th October.
"I am very proud of the Bahrain International Trophy. We have hosted the race for two years and we will be hosting it again in 2021 for the third time having seen a huge jump in the quality of horses and participants in year two,"His Highness Shaikh Isa bin Salman bin Hamad Al Khalifa, Chairman of the Rashid Equestrian and Horse Racing Club High Committee, said.
"By introducing the new Bahrain Turf Series we hope to further attract great horses to the Kingdom of Bahrain, horses that can add a higher quality of performance to our two most prestigious races, His Majesty the King's Cup and His Royal Highness the Crown Prince's Cup.
"My own personal goal is to develop the industry of thoroughbred horse racing in the Kingdom of Bahrain and if we are able to facilitate our Bahraini trainers and jockey's relationships with European connections that will be one of my key goals met."
"We are delighted to be introducing the new Bahrain Turf Series to our race programme and hosting these races for the forthcoming season,"His Highness Shaikh Faisal bin Rashid bin Isa Alkhalifa, Deputy Chairman of the Rashid Equestrian & Horse Racing Club, said.
"We look forward to welcoming owners and trainers to experience horse racing in Bahrain and everything that the Kingdom of Bahrain has to offer."
"It is an incredibly exciting time for horse racing in Bahrain. We have been blown away with the amount of quality trainers, jockeys and horses who have come to race in Bahrain since the first Bahrain International Trophy in 2019,"Shaikh Salman bin Rashed al Khalifa, Executive Director of the Rashid Equestrian & Horse Racing Club said.
"To have had five individual Group 1 winners in our second running of the race, including Aidan O'Brien's Irish Derby winner Sovereign was very special. Off the back of the race's success, the Rashid Equestrian & Horse Racing Club are very proud to introduce the Bahrain Turf Series for the 2021/22 season in Bahrain."
Andrew Balding has sent a horse to each of the two runnings of the Bahrain International Trophy (Pivoine in 2019 & Bangkok in 2020) and is keen to continue to support the Bahrain International Trophy and the new Turf Series moving forward.
"Our experiences with sending horses to Bahrain has been exemplary. The fantastic facilities for the horses and stable staff, coupled with brilliant hospitality means we would love to be returning there this winter for either the Bahrain International Trophy or the new Turf Series. Preferably both!,"Balding said.
John & Thady Gosden have finished 2nd in both Bahrain International Trophy races held (Turgenev in 2019 & Global Giant in 2020). Thady Gosden is full of praise for the set-up in Bahrain.
"Having taken horses to the inaugural, and second running of the Bahrain International Trophy, the race remains firmly as a target. The training and quarantine facilities in Bahrain are world-class, and constantly being improved. The racecourse is also well-suited to the European style of racing, and we would not hesitate to take the right horses there in the future," Gosden said.
Frankie Dettori has been riding in Bahrain for over five years and has had plenty of success there including four Crown Prince's Cups. He finished second on Global Giant in the 2020 Bahrain International Trophy for His Highness Shaikh Isa bin Salman bin Hamad Al Khalifa.
"It is a joy to ride in Bahrain. It is probably one of the best turf courses in the Middle East. His Highness Shaikh Isa has done a fantastic job in creating the Bahrain International Trophy, which has already attracted some incredible horses. It is a very exciting time for horse racing in Bahrain," Dettori said.
MKF announces 2nd edition of Ithraa Youth Programme
Al-Mabarrah Al-Khalifia Foundation (MKF) announced the continuation of activities within the Ithraa programme 2021 in its second edition, which will extend over a period of one month. The programme will run through two phases, each lasting 15 days, the first phase will be held over the spring break, as the second will be during the summer holiday.
The second season will witness 10 coaches hosting more than 30 participants in daily workshops which will be held virtually via 'Zoom', in compliance with the guidelines set by the Ministry of Health and The National Taskforce for Combating the Coronavirus.
This programme was created by studying the participants' needs and analyzing the results of their self-assessments, to ensure that they would be able to develop their skills by directing their energies towards elevating the Kingdom.
The Ithraa programme is committed to refining and highlighting the participants'' talents, while focusing on developing a number of important skills such as: employment skills, technical, social and life skills, in addition to managing projects, and learning about university life, future careers and many more.
The programme also aims to enhance personal and life skills among the youth, whilst instilling a culture of giving back to society and their country, and contribute to achieving their goals through innovative physical and mental activities that instill the program's educational values in cooperation with professional coaches with extensive experience within their respected fields.
The Foundation's programs seek to create proactive and educated Bahraini youth that are able to add value in shaping a positive difference in society. This comes in line with Tamkeen's vision of enabling Bahrainis to thrive and contribute towards strengthening the national economy.
The Ithraa programme is a training program that extends for one year and targets two categories of participants, namely, young people between the ages of 13 to 17 years, where a unique learning experience is provided through the use of physical and mental activities which go in line with the programme's value. The other category includes the coaches of the program, which the Foundation is keen on preparing them through the use of advanced courses and training on how to guide the young participants.
Training aircraft crashes in Lebanon; 3 feared dead
A small training aircraft with three people onboard crashed on Thursday in Lebanon's mountainous Keserwan district, north of the capital Beirut, the country's aviation authority said. Initial reports suggested the pilot and two passengers were killed, aviation sources said.
The Cessna 172 plane belonged to flight training firm Open Sky Aviation and had taken off from Beirut airport at 1.30 p.m. local time before crashing 20 ​minutes later in the village of Ghosta, the aviation authority said in a statement. The public works and transport minister had formed a committee to investigate, the authority said.
"It was very foggy in the area … the airplane hit rocks above a house," Ziad Maalouf, a local resident who was in the area and heard the crash, said. "After hearing the bang we ran out and we saw the remains of people.
COVAX aims to deliver 520 mln vaccine doses to Africa this year
The global vaccine distribution scheme COVAX aims to deliver 520 million COVID-19 vaccine doses to Africa this year, its managing director said, with supplies ramping up from September after delays caused by Indian export restrictions. Aurelia Nguyen told a news conference on Thursday organised by the World Health Organization's Africa region that the scheme had delivered around 25 million doses to 44 African countries so far, but she was not happy with progress.
In early March, the CEO of vaccine alliance Gavi, one of the organisations co-leading COVAX, had said the aim was to supply Africa – whose total population is 1.3 billion – with 720 million doses in 2021. But later that month India placed a hold on vaccine exports, deepening problems for COVAX, which was heavily dependent on doses from the Serum Institute of India, which is one of the world's largest vaccine manufacturers and has been producing AstraZeneca shots.
Nguyen said COVAX had been in talks with the Indian government and Serum Institute and that it was factoring in a resumption of supplies "towards the later part of the year" although the situation was still fluid. By the end of the first quarter of 2022, COVAX aims to supply nearly 850 million vaccine doses to the African continent, which has some of the lowest COVID-19 vaccination rates worldwide. That new target is enough to protect up to 30% of the population of every African country that qualifies for subsidised doses under COVAX's so-called Advance Market Commitment, Nguyen added.
African countries will receive doses from COVAX's portfolio of nine vaccines, which as well as AstraZeneca include shots developed by Pfizer, Johnson & Johnson and Moderna. Addressing the same conference, South Africa-based Professor Tulio de Oliveira, a genomics expert, said the more infectious Delta coronavirus variant was spreading rapidly throughout Africa, accounting for roughly three-quarters of the genomes sequenced on the continent recently and driving up deaths.
"More than ever it's time to increase vaccination," he said. Africa's top public health official, John Nkengasong, said separately that only 1.2% of the continent's population had been fully vaccinated. He said the situation in Senegal and Ghana, which are running low on COVID-19 vaccine supplies, was not unique owing to the COVAX delays, but that a U.S. donation of 15 million doses would soon start to be distributed via the facility. The African Union's vaccine task team will also start rolling out 7 million Johnson & Johnson shots next week, Nkengasong said.
Read & Watch the latest news happening around the World with one Click – "STARVISION NEWS 3D PRO (9 July 2021)"
3D Pro: http://bit.ly/SVNews3DPro-9July2021