5 JULY 2021 – Starvision News 3D PRO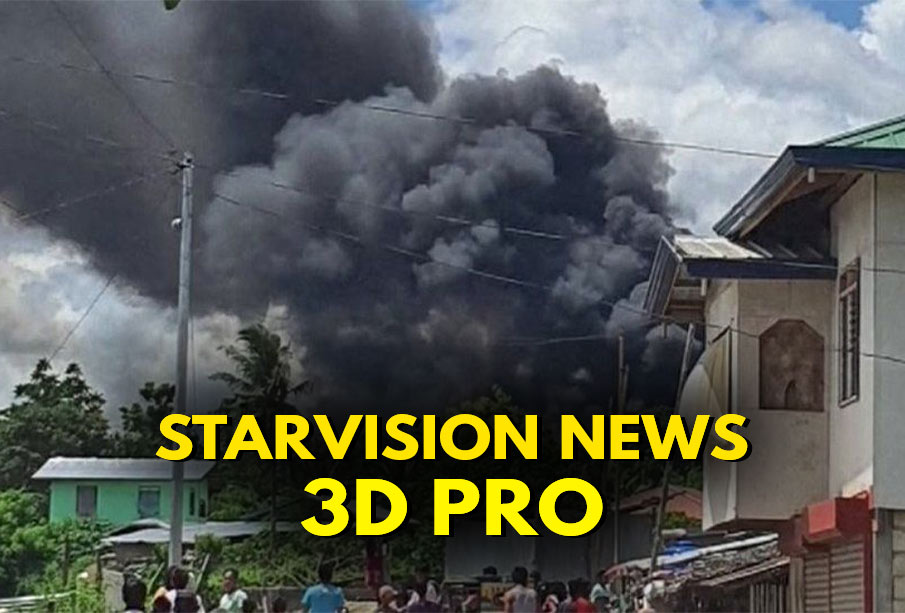 Some Philippine troops jump before military plane crashes in flames, killing at least 45
A military plane has crashed in the southern Philippines killing at least 45 people, with dozens more pulled alive from the burning wreckage. The transporter was carrying more than 90 people, mostly troops, when it overshot the runway on Jolo island. The dead are mainly military personnel, but three civilians on the ground were also killed, the defence ministry said.
Rescue workers scoured the wreckage of the Lockheed C130 Hercules in a wood near several buildings. The aircraft burst into flames on crashing, sending a large black cloud into the air. Several dozen people were injured, and five are still missing, the military said. A nearby military hospital treated survivors. The plane, which came down at 11:30 local time (03:30 GMT) a few kilometres from the town of Jolo, was carrying troops from Cagayan de Oro, on the southern island of Mindanao.
"It missed the runway, trying to regain power but it didn't make it," armed forces chief Gen Sobejana told reporters. A statement from the regional military force, Joint Task Force Sulu, said "a number of soldiers were seen jumping out of the aircraft before it hit the ground, sparing them from the explosion caused by the crash".
Pope Francis in hospital for intestinal surgery
Pope Francis was admitted to Rome's Gemelli hospital on Sunday for scheduled intestinal surgery, the Vatican said, the first time he has been in hospital since his election in 2013. Spokesman Matteo Bruni said the pope, 84, was due to undergo the surgery later on Sunday for an intestinal condition that tends to affect older people and can cause abdominal pain. The pope appeared to be in fine health several hours earlier when he addressed thousands of people in St. Peter's Square for his Sunday blessing and announced a trip to Slovakia and Budapest for September. The sprawling Catholic-run Gemelli hospital and medical school in the northern part of Rome traditionally treats popes and a part of its 10th floor is permanently reserved for them.
Francis is suffering from symptomatic diverticular stenosis of the colon, a condition where sac-like pouches protrude from the muscular layer of the colon, leading it to become narrow. In addition to causing pain, the condition can lead to bloating, inflammation, and difficulty in bowel movement. Francis is sometimes short of breath because a part of one of his lungs was removed following an illness when he was a young man in his native Argentina.He also suffers from sciatica, which causes pain that radiates from the lower back along the sciatic nerve to the legs.
Japan rescue work continues after deadly landslides, 20 missing
Rain hampered Japanese rescuers seeking 20 missing people on Sunday after landslides triggered by torrential rains hit the central city of Atami, killing two women, a local city official said on Sunday. A total of 19 people were rescued, with 2 injured, and about 130 buildings were affected after floods, landslides and cascading mud collapsed and half-submerged houses on Saturday in the seaside city 90 km southwest of Tokyo, Yuta Hara, a spokesman for Atami city hall, told Reuters by phone. The floods are a reminder of the natural disasters – including earthquakes, volcanoes and tsunami – that plague Japan, where the capital Tokyo is to host the summer Olympics starting this month.
Prime Minister Yoshihide Suga asked people in the affected areas to remain on alert and take precautions after he and cabinet ministers met on Sunday to discuss the disaster and heavy rain in the central and eastern Japan. Some 700 people from the Shizuoka prefectural police, firefighters and Japan's military continued their search and rescue efforts, but their operations have been interrupted twice due to a risk of ground loosening and warnings of secondary damage from rain, Atami's Hara said. In the affected area where intermittent rain continued, about 387 people have been evacuated as of 11:00 a.m. (0200 GMT) on Sunday, Hara said. (Reuters)
Max Verstappen wins Austrian GP
Red Bull's Max Verstappen dominated at his team's own track for the second time in a week to take control of the drivers' championship. Verstappen's victory in the Austrian Grand Prix was his fourth in five races and moves him into a 32-point lead over title rival Lewis Hamilton. The Mercedes driver had a troubled race and finished fourth behind team-mate Valtteri Bottas and McLaren's Lando Norris. And Verstappen's domination raises questions as to the state of Hamilton's hopes of an eighth title this year.
Further down the field, George Russell agonisingly missed out on scoring a point for Williams for the first time when he was passed for 10th place by Alpine's Fernando Alonso with three laps to go after holding the two-time champion at bay for 10 laps. And there was a bizarre incident on the final lap when Kimi Raikkonen appeared to make a misjudgement and drove his Alfa Romeo into Sebastian Vettel's Aston Martin as they were fighting with Russell, taking both cars out.
Verstappen controlled the race at the front to send the thousands of Dutch fans who had travelled to Styria for the event into paroxysms of joy. He moved clear in the opening laps as Hamilton challenged Norris for second place in the first part of the race. It took Hamilton 20 laps before he could find a way past Norris at Turn Four, by which time Verstappen was nearly 10 seconds in front.
The Red Bull driver continued to pull away in the lead and it looked as if Hamilton, who went into the race talking about limiting the damage to his title hopes, would have to settle for a comfortable second. But the seven-time champion's race took a turn for the worse when he suffered floor damage – from running wide at the final corner, Mercedes suspected – and he began to struggle for both pace and with heavy tyre wear.
Hamilton fell back towards Bottas and Norris. Mercedes initially told the Finn to hold station behind Hamilton, Bottas was then told he was allowed to race his team-mate, and finally the two were ordered to swap places, the Briton letting Bottas by into Turn Three with 20 laps to go.
Norris passed Hamilton two laps later and the Mercedes driver pitted for fresh tyres, having to resign himself to fourth place. Norris chased Bottas all the way and finished only two seconds behind the Finn in an outstanding drive to the final podium place, despite being given a five-second penalty for pushing Red Bull's Sergio Perez wide as they battled around Turn Four on the first full racing lap after a first-lap safety car.
HM King congratulated on honorary doctorate
His Majesty King Hamad bin Isa Al Khalifa received cables of congratulations from from senior officials on being conferred an honorary doctorate by the Board of Trustees of the Moscow State University for International Relations in recognition of his noble role in promoting peaceful co-existence and dialogue among various religions and cultures.
In the cables, they all prayed to Allah the Almighty to bless HM the King with good health, happiness and long life and guide him on the path of success to lead the Bahrain to achieve further progress and prosperity.
Suez Canal says deal reached to free seized vessel
The Suez Canal Authority on Sunday said it has reached an agreement to settle a financial dispute with the owners of a hulking container ship that blocked the crucial waterway for nearly a week earlier this year, said AP.
The authority did not reveal details on the settlement deal with Shoei Kisen Kaisha Ltd., the Japanese owner of the Ever Given. It said the deal will be signed in a ceremony in the Suez Canal city of Ismailia on Wednesday. The vessel would also be freed Wednesday, it said.
The head of Egypt's Suez Canal Authority, Lt. Gen. Osama Rabie, said last month the parties had agreed on a compensation amount. But he said it would not be made public as they had signed a non-disclosure agreement until the signing of the final contract.
The vessel had run aground in the single-lane stretch of the canal on March 23 before it was extracted six days later after a massive salvage effort by a flotilla of tugboats.
Since it was freed, the Panama-flagged, Japanese-owned vessel, which carries cargo between Asia and Europe, has been ordered by authorities to remain in a holding lake mid-canal, along with most of its crew, as the two sides negotiated a settlement.
The disagreement had centered on the compensation amount the Suez Canal Authority is claiming for the salvage of the vessel. The money would cover the salvage operation, costs of stalled canal traffic, and lost transit fees for the week the Ever Given blocked the canal.
At first, the Suez Canal Authority demanded $916 million in compensation, which was later lowered to $550 million.
The six-day blockage disrupted global shipping. Hundreds of ships waited in place for the canal to be unblocked, while some ships were forced to take the much longer route around the Cape of Good Hope at Africa's southern tip, requiring additional fuel and other costs.
Abu Dhabi updates travel procedures for citizens and residents
Abu Dhabi Emergency, Crisis and Disasters Committee has updated travel procedures for citizens and residents of Abu Dhabi returning from travel abroad, effective from Monday, 5 July 2021. Vaccinated travellers arriving from green list destinations must take a PCR test on arrival without the need to quarantine, and take a PCR test on day 6. When arriving from other destinations, they must take a PCR test on arrival, quarantine for seven days and take a PCR test on day 6.
The protocol applies to vaccinated UAE citizens and residents who received their second dose at least 28 days earlier, documented in the vaccine report on Alhosn app. Unvaccinated citizens and residents arriving in Abu Dhabi from green list destinations must take a PCR test on arrival without the need to quarantine, and take a PCR test on days 6 and 12. When arriving from other destinations, they must take a PCR test on arrival, quarantine for 12 days and take another PCR test on day 11.
Greek economy won't close again because of COVID-19: PM
Greece's economy would not close again because of the coronavirus pandemic if it was just to protect an unvaccinated minority, Prime Minister Kyriakos Mitsotakis said in a newspaper interview released on Sunday.
Greece has fared well in the first wave of the COVID-19 last year. But a resurgence in COVID-19 infections has forced the country to impose lockdown restrictions since November which have cost many billions of euros to an economy slowly emerging from a decade-long crisis.
Greece has been easing restrictions as infections fall, but concerns are rising about the spread of the more contagious Delta variant. With about 35% of its 11 million population fully inoculated, the government last week offered young people cash and phone data to boost vaccination rates.
Mitsotakis said he can't make vaccinations mandatory. "But everyone assumes his responsibility. The country will not close again for the protection of a few unvaccinated."
Mitsotakis said that he hoped that relations between Greece and Turkey will be better this summer than last summer when the two historic rivals came close to armed conflict. The two NATO allies, at odds over competing territorial claims in the eastern Mediterranean to migrant boats and the status of Cyprus, have been trying to lower tensions since.
Read & Watch the latest news happening around the World with one Click – "STARVISION NEWS 3D PRO (5 July 2021)"
3D Pro: http://bit.ly/SVNews3DPro-5July2021