31 MAY 2021 – Starvision News 3D PRO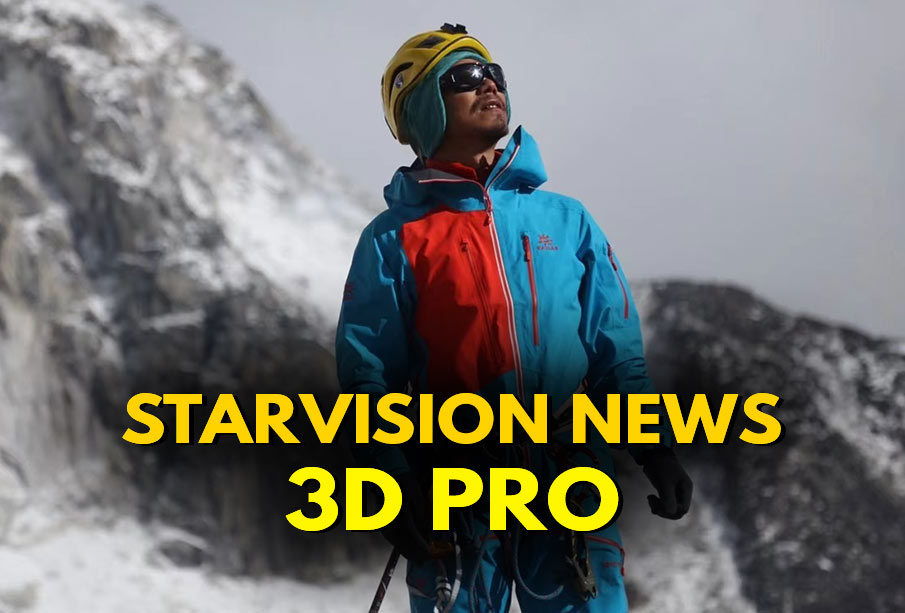 First blind Chinese mountaineer climbs Mount Everest
The 46-year old Chinese Zhang Hong has scaled the tallest peak in the world from the Nepal side, becoming the first blind man in Asia and the third in the world to climb Mount Everest.
"No matter if you're disabled or normal, whether you have lost your eyesight or you have no legs or hands, it doesn't matter as long as you have a strong mind, you can always complete a thing that other people say you can't," Zhang told Reuters.
Zhang completed the 8,849 metre-high Himalayan feat on May 24 along with three high altitude guides, and returned to the base camp on Thursday. Born in southwestern Chinese city of Chongqing, Zhang lost his sight at the age of 21 due to glaucoma. He was inspired by Erik Weihenmayer, a blind American mountaineer who scaled Everest in 2001, and began training under the guidance of his mountain guide friend Qiang Zi.
"I was still very scared, because I couldn't see where I was walking, and I couldn't find my centre of gravity, so sometimes I would fall," said Zhang. "But I kept thinking because even though it was hard, I had to face those difficulties, this is one component of climbing, there are difficulties and dangers and this is the meaning of climbing." (Reuters)
Bahrain Daily COVID-19 Report
Cyprus elects new parliament
People are heading to the polls to elect a new parliament in the Republic of Cyprus on Sunday. Polls indicate a neck-and-neck race in the EU country between the conservative Democratic Rally (DISY) party and the left-wing Progressive Party of Working People (AKEL).
The DISY party supports the incumbent conservative President Nikos Anastasiades. In the Cypriot political system, the president leads the government and is elected directly, according to the Deutsche press agency (dpa).
The elections are considered a political barometer for the presidential election in 2023.
Polling stations open at 7 am (04:00 GMT). Projections are expected after 17:00 GMT.
More than 550,000 people are eligible to vote and 15 parties are contesting the elections.
The parliament in the capital Nicosia has in fact 80 members, but at present only 56 Greek Cypriot lawmakers belong to it. The 24 seats for the Turkish Cypriot members of parliament have been vacant since 1963.
Bahrain's Civil Aviation Affairs adds Vietnam to its Red List
Bahrain's Civil Aviation Affairs has added Vietnam to its travel Red List, effective 1 June 2021. Entry of travellers from Red List countries is limited to citizens and valid residency visa holders, who must present evidence with a QR code of a negative PCR test conducted within 48 hours of departure. They will be further tested upon arrival and on day 10 of their stay.
Permitted travellers from Red List countries must quarantine at their or a family member's residence, or at a designated quarantine facility for 10 days. All COVID-19 travel restrictions, including the Red List, are subject to change. As of 30 May 2021, Bahrain's Red List countries are; India, Pakistan, Sri Lanka, Bangladesh and Nepal, with Vietnam being added from 1 June.
All other arrivals must activate the 'BeAware Bahrain' application and sign a self-isolation agreement, requiring them to quarantine until a negative PCR result is reported.
CDC data indicates US is on track for vaccination target
The United States is on track to reach a goal calling for 70 percent of adults to have received at least one dose of a Covid-19 vaccine by July 4, according to the Centers for Disease Control and Prevention (CDC). New data released Saturday indicates that more than half of all adults in the United States – or more than 51 percent – are now fully vaccinated against the coronavirus, marking another milestone in the country's pandemic recovery.
All told, some 167.2 million people 18 years or older have received at least one dose, according to the CDC data, Deutsche press agency (dpa) reported. President Joe Biden set a goal earlier this month of hitting the first milestone by July 4, when Independence Day is celebrated. The target was expected to be reached hit, with the number standing at 61 percent more than a month out.
Still, the pace of vaccinations varies across the country, with the north-east and west coast among the regions with the highest take up while the south has moved more slowly. The CDC indicated that speaking of the entire US population of some 330 million, around 40 percent of the population are already fully vaccinated now.
Education Ministry to launch textbooks on robotics for intermediate, secondary students
Bahrain's Education Minister, Dr. Majid bin Ali Al-Nuaimi, has revealed that the curriculum sector has developed many textbooks for all educational levels. These include textbooks on robotics skills, Raspberry Pi and digital electronics for secondary students, in addition to an introduction to robotics, robots, creative programming and digital electronics for intermediate students. The books are part of the ongoing preparations for the new academic year, in light of the exceptional circumstances created by the novel Coronavirus.
Dr. Al-Nuami highlighted the tremendous efforts exerted by the Education Ministry to deliver educational services to the students, citing the uploading of a total of 9,340 lessons on 14 YouTube channels, and the preparation of 8,016 digital lessons, including 3,352 televised lessons, 324 audio ones and 402 ones for special education. He added that within the project to restructure the Education Ministry, a national framework for curricula that achieves national and global visions based on promoting Bahraini values and history has been prepared.
Two documents on literacy and numerical standards aimed at improving the students' skills have also been prepared, which will reflect positively on the overall educational output, he said. He pointed out that the Ministry of Education has developed a number of textbooks for primary, intermediate and secondary levels.
Information Ministry conducts rapid COVID-19 test for its employees
In implementation of the decisions of the Executive Committee and the recommendations of the National Taskforce for Combating the Coronavirus (Covid-19), and in compliance with the directives of the Civil Service Bureau regarding the mandatory rapid test of COVID-19 for the public sector employees, the Ministry of Information began today morning to conduct a rapid COVID-19 test for all on-duty employees in accordance with precautionary measures to ensure the health and safety of all employees.
The ministry has organised a training workshop for the periodic examination team, with the participation of 20 volunteers from the ministry's staff. They were shown the mechanism of dealing with rapid tests in the right way, and the best practices in the field of organising medical checkup campaigns and ensuring the safety of employees.
The ministry's rapid test hall witnessed a large turnout of employees out of commitment to helping reduce the spread of the virus and ensure the safety of the community. They praised the smooth procedures and the efforts of the volunteer team who are organising and conducting the examination process.
France threatens to pull troops out of Mali
French President Emmanuel Macron said he would consider withdrawing troops from Mali if he saw growing tendencies towards radical Islamism following the recent coup, he said in comments published on Sunday, the Deutsche Presse Agentur (DPA) reported. Mali's president and prime minister were forced to resign from their positions earlier this week, after being detained in a coup staged by the vice president.
Macron said he saw such tendencies in Mali and if they grew, he would bring French troops home, he told Le Journal du Dimanche. France has more than 5,000 troops deployed in Mali to back up local forces against Islamist extremist groups. Germany's Bundeswehr also has several hundred soldiers stationed there. Macron said he had made it clear to West African leaders that he would not support a government that lacked democratic legitimacy.
On Sunday, the regional alliance ECOWAS will hold a summit to discuss the political turmoil in Mali. The talks days after the colonel who led a military coup in Mali declared himself officially the country's leader. Mali's Constitutional Court published a judgement late Friday declaring that Colonel Assimi Goita would assume the presidency. Goita also led a coup last August that ousted president Ibrahim Boubacar Keita from office after nearly seven years. Mali has been rocked by instability and plagued by Islamist terrorists for years. A United Nations mission is deployed there to help stabilize the country.
Read & Watch the latest news happening around the World with one Click – "STARVISION NEWS 3D PRO (31 May 2021)"