2 JUNE 2021 – Starvision News 3D PRO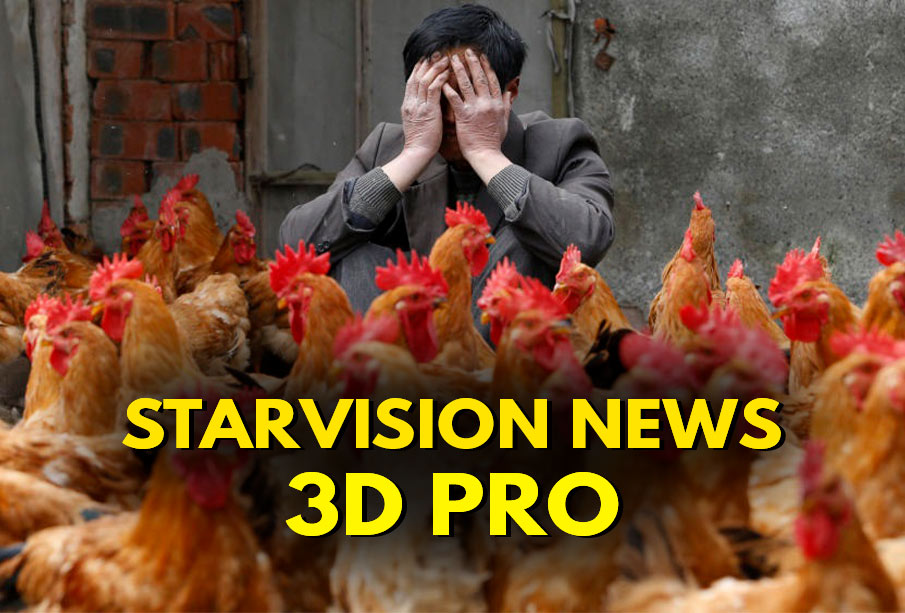 China reports first human case of H10N3 bird flu
A 41-year-old man in China's eastern province of Jiangsu has been confirmed as the first human case of infection with a rare strain of bird flu known as H10N3, Beijing's National Health Commission (NHC) said on Tuesday. Many different strains of bird flu are present in China and some sporadically infect people, usually those working with poultry. There is no indication that H10N3 can spread easily in humans.
The man, a resident of the city of Zhenjiang, was hospitalized on April 28 and diagnosed with H10N3 on May 28, the health commission said. It did not give details on how the man was infected. His condition is now stable and he is ready to be discharged. Investigation of his close contacts found no other cases, the NHC said. No other cases of human infection with H10N3 have been reported globally, it added. H10N3 is low pathogenic, which means it causes relatively less severe disease in poultry and is unlikely to cause a large-scale outbreak, the NHC added.
The World Health Organization (WHO), said: "The source of the patient's exposure to the H10N3 virus is not known at this time, and no other cases were found in emergency surveillance among the local population. At this time, there is no indication of human-to-human transmission.
"As long as avian influenza viruses circulate in poultry, sporadic infection of avian influenza in humans is not surprising, which is a vivid reminder that the threat of an influenza pandemic is persistent," the WHO added.
The strain is "not a very common virus", said Filip Claes, regional laboratory coordinator of the Food and Agriculture Organization's Emergency Centre for Transboundary Animal Diseases at the regional office for Asia and the Pacific. Only around 160 isolates of the virus were reported in the 40 years to 2018, mostly in wild birds or waterfowl in Asia and some limited parts of North America, and none had been detected in chickens so far, he added. Analysing the genetic data of the virus will be necessary to determine whether it resembles older viruses or if it is a novel mix of different viruses, Claes said.
There have been no significant numbers of human infections with bird flu since the H7N9 strain killed around 300 people during 2016-2017. (Reuters)
Saudi and Kuwaiti Crown Princes discuss joint cooperation
Saudi Crown Prince, Deputy Premier and Defence Minister His Royal Highness Prince Mohammed bin Salman bin Abdulaziz Al Saudi held a meeting today with the Kuwaiti Crown Prince His Highness Shaikh Mishal Al Ahmed Al Jaber Al Sabah.
The Kuwaiti Crown Prince delivered a letter addressed to the Custodian of the Two Holy Mosques King Salman bin Abdulaziz Al Saud from the Emir of Kuwait HH Shaikh Nawaf Al Ahmed Al Jaber Al Sabah.
The Saudi News Agency (SPA) said that the meeting focused on bilateral fraternal relations binding the two countries, aspects of joint cooperation across all fields, in addition to regional and international developments.
Bahrain Daily COVID-19 Report
VIRAL VIDEO: Drone crashes into erupting Icelandic Volcano
YouTuber and drone operator Joey Helms lost his brand new DJI FPV drone while it was hovering over an erupting Icelandic volcano. The drone captured the exact moment it fell right into the volcano's caldera.
The footage captured is of Iceland's newest volcano, Fagradalsfjall in the Geldingadalir valley. Fagradalsfjall is a shield volcano on the Reykjanes Peninsula, which is 40 km away from Reykjavík, Iceland. It started erupting on March 19, 2021, and continues to emit fresh lava. The aerial footage shows lava flowing out from the volcano and it is every bit mesmerising.
Speaking to The National, Joey Helms said that flying a drone above an erupting volcano is very tricky. "Around the volcano you have hot gasses that emit turbulence all around it and hot rocks raining on you. Flying these things is tricky," the YouTuber said.
Earlier, a spectacular video captured by aerial photographer Bjorn Steinbekk of the erupting volcano near the Fagradalsfjall mountain went crazy viral on social media. The video had been shared on several social media platforms.
WHO grants emergency authorization to second Chinese COVID-19 jab
The World Health Organization (WHO) on Tuesday granted emergency approval to a second Covid-19 vaccine manufactured in China. The shot, developed by pharmaceutical firm Sinovac, has the highest standards in terms of effectiveness and manufacturing, the WHO said. According to the WHO's Strategic Advisory Group of Experts (SAGE), the jab prevents Covid-19 symptoms in 51 percent of vaccinated people.
Another vaccine by Chinese manufacturer Sinopharm was already authorized on May 7 by WHO. WHO has also issued an authorization for emergency use for the Covid-19 vaccines by BioNTech/Pfizer, AstraZeneca, Johnson & Johnson and Moderna.
Countries that don't have their own medical regulation authority often use the WHO decision as a benchmark to introduce a jab, while the United States and the European Union, for instance, have their own regulatory bodies for the matter.
HH Shaikh Nasser; 
HH Shaikh Khalid visit the national football team
His Majesty the King's Representative for Humanitarian Work and Youth Affairs HH Shaikh Nasser bin Hamad Al Khalifa visited the national football team, ahead of the third round of Group C of the 2022 Fifa World Cup, 2023 Asian Cup qualifiers, which will be held in the Kingdom of Bahrain.
He was accompanied by HH Shaikh Khalid bin Hamad Al Khalifa, Supreme Council for Youth and Sports (SCYS) First Deputy Chairman, General Sports Authority (GSA) Chairman and Bahrain Olympic Committee (BOC) President. They were received by Bahrain Football Association (BFA) Chairman Shaikh Ali bin Khalifa Al Khalifa, BFA national teams committee member Mohammed bin Jalal amid precautionary measures for combating COVID-19.
HH Shaikh Nasser bin Hamad Al Khalifa met the technical and administrative staff and players and urged them to double efforts to book a berth in the world cup. He said that all the sports community and citizens support the national team, eying qualifications to the World Cup, adding that Bahrain has a great opportunity to achieve the goal, especially since the qualifiers will be held in the Kingdom.
Read & Watch the latest news happening around the World with one Click – "STARVISION NEWS 3D PRO (2 June 2021)"