14 JULY 2021 – Starvision News 3D PRO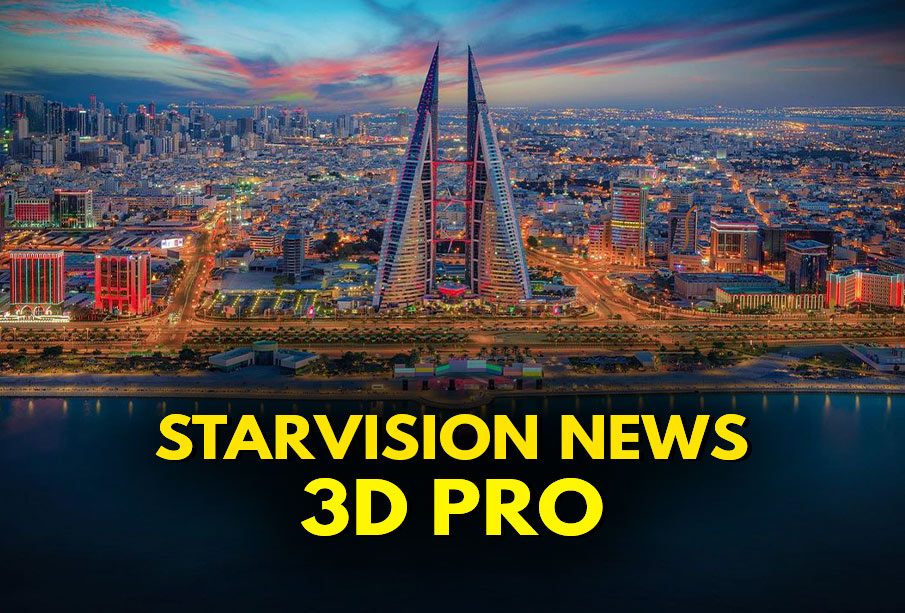 Bahrain announces the upcoming changes to the Kingdom's alert level
Following a review of the average COVID-19 positivity rates and approval by the Government Executive Committee, the National Medical Taskforce for Combatting the Coronavirus (COVID-19) today announced that the Kingdom of Bahrain will adopt the Green Alert Level on Friday 16 July 2021.
The Kingdom will adopt the Orange Alert Level during the Arafah and Eid Al-Adha holidays, starting from 19 July to 22 July 2021. This is in line with the previous announcement that some dates will be designated a higher alert level in the interest of public health and safety.
Average COVID-19 positivity rates will again be reviewed following the Eid Al-Adha holidays, on 23 July, to determine the alert level. The Taskforce emphasised the importance of following preventive measures and procedures throughout the Arafah and Eid Al-Adha holidays.
Bahrain adds 16 countries to its Travel 'Red List'
The Civil Aviation Affairs has updated travel regulations, expanding the number of Red List countries, in line with directives issued by the Government Executive Committee after a review of the latest recommendations of the National Medical Taskforce for Combating the Coronavirus (COVID-19).
Passengers arriving from Red List countries, including passengers who have transited through any of those countries at any point in the preceding 14 days, are prohibited from entry unless they are citizens or residents of the Kingdom of Bahrain.
Passengers eligible for entry must present a negative PCR certificate, with a QR code, administered within 48 hours of their departure, undergo further testing upon arrival, and on their 10th day of mandatory quarantine. Payment for testing may be made on arrival or through the 'BeAware Bahrain' application.
For travellers' convenience, designated quarantine centres licensed by the National Health Regulatory Authority (NHRA) are available. Passengers with an address in Bahrain, registered in their name or the name of an immediate family member, may complete their 10-day mandatory quarantine at that residence. Passengers aged six and below are exempt from these requirements.
All other travel procedures for arrivals from non-Red List countries remain in place. Red list countries are modified based on an assessment made by the National Medical Taskforce for Combating the Coronavirus (COVID-19) and is periodically reviewed in line with international developments.
92 die in fire on Iraq COVID ward; More than 100 injured
The death toll from a fire that tore through a coronavirus hospital in southern Iraq rose to 92, health officials said on Tuesday. More than 100 people were injured in the blaze on Monday night in Nassiriya, officials said.
An investigation showed the fire began when sparks from faulty wiring spread to an oxygen tank that then exploded, police and civil defence authorities said. It was Iraq's second such tragedy in three months, and the country's president on Tuesday blamed corruption for both. A statement from the prime minister's office called for national mourning.
Rescue teams were using a heavy crane to remove the charred and melted remains of the part of the city's al-Hussain hospital where COVID-19 patients were being treated, as relatives gathered nearby.
While some bodies were collected for burial, with mourners weeping and praying over the coffins, the remains of more than 20 badly charred corpses required DNA tests to identify them.
Man in China reunited with son kidnapped 24 years ago
A Chinese man has been reunited with his son after a 24-year search that saw him travel over 500,000km (310,000 mi) on a motorbike across the country. Guo Gangtang's son had been snatched aged two by human traffickers in front of their home in the province of Shandong. His son's disappearance actually inspired a movie in 2015, which starred Hong Kong superstar Andy Lau.
Child abductions are a big problem in China, with thousands taken every year. According to China's Ministry of Public Security, the police were able to trace the son's identity using DNA testing. Two suspects were later tracked down and arrested, said a Global Times report.
The suspects, who were dating at the time, had planned to kidnap a child with the intention of selling him for money, said a report by China News. After spotting Mr Guo's son playing alone outside his home, the female suspect identified only by her surname Tang grabbed him and took him to the bus station, where her partner, named as Hu, was waiting. The couple then took an intercity coach to neighbouring Henan province and sold the child there.
Local media reports say Mr Guo's son was found still living in the province. Mr Guo and his wife cried and hugged their son when they were reunited in Liaocheng, Shandong, on Sunday, state media CCTV reported.
"My baby, you came back!" said the mother, whose name was not released, in a video of the reunion.
"Now that the child has been found, everything can only be happy from now on," Mr Guo told reporters.
After his son was abducted in 1997, Mr Guo reportedly travelled to more than 20 provinces around the country on the back of a motorbike chasing tip-offs. In the process, he broke bones in traffic accidents and even encountered highway robbers. Ten motorbikes were also damaged. Carrying around banners with his son's picture on them, he is said to have spent his life savings on his mission, sleeping under bridges and begging for money when he ran out of cash. He also became a prominent member of missing-persons organisations in China, and helped at least seven other parents reunite with their abducted children.
Roger Federer pulls out of Tokyo Olympics
Twenty-time Grand Slam champion Roger Federer has pulled out of the Tokyo Olympics because of a knee injury. Federer, 39, lost in the quarter-finals of Wimbledon this year but anticipates re-joining the tour for the hard-court swing later in the year.
The Swiss won doubles gold at Beijing 2008 alongside Stan Wawrinka and silver in 2012 in the singles after losing to Andy Murray in the final in London. Federer, now ranked number nine in the world, had two knee surgeries in 2020.
In the last two years he has seen his Grand Slam tally equalled by Spain's Rafael Nadal at the 2020 French Open and most recently by Serbia's Novak Djokovic – who won a record-equalling 20th major at Wimbledon. After losing to Poland's Hubert Hurkacz in the quarter-finals of Wimbledon Federer told reporters he was unsure whether he would play at SW19 again.
India PM Modi warns against overcrowding at tourist spots
Prime Minister Narendra Modi warned on Tuesday against overcrowding at tourist sites and called for faster vaccinations against the coronavirus even as official figures indicated a slower spread of new infections.
The Indian Medical Association (IMA) said on Monday it feared gathering of tourists and pilgrims could become super spreader events that fuel a deadly third wave of infections and it warned against complacency.
"I will say very emphatically that it is not OK to have huge crowds in hill stations, markets, without wearing masks," Modi said in comments posted on Twitter while acknowledging the tourism industry has been badly hit by lockdowns.
India's coronavirus caseload of 30.91 million infections is the world's second-highest behind the United States. Its official tally of deaths is 410,784, many of them coming in a brutal second wave of infections in April and May when people died outside hospitals as they waited for beds and bodies were washing up on the banks of the holy Ganges river. On Tuesday, authorities reported 32,906 new cases – the lowest daily tally since mid-March – compared with some 400,000 a day at the height of the second wave.
Education Ministry opens registration for evening education programs
The Ministry of Education announced the opening of registration for evening education programs for the pre-secondary stages of the next school year 2021/2022.
The registration will start on July 13 until August 13 for new students aged 15 years or older via online form, with the required documents attached, while students enrolled in evening education from the past academic year 2020/2021 will be automatically registered.
Pope Francis to leave hospital as soon as possible, no longer in wheelchair
Pope Francis is continuing his planned treatment and rehabilitation after intestinal surgery 10 days ago and will leave hospital as soon as possible, the Vatican said on Tuesday.
The Vatican's daily medical bulletin on the 84-year-old pope, who had part of his colon removed on July 4, also said he had met many patients during his stay at the Gemelli hospital but felt particularly close to "those who are bedridden and cannot return home".
On Tuesday afternoon, the Vatican released five pictures of the pope during a visit earlier in the day to the children's cancer ward on the same floor as his suite. They showed the pope seeming in good condition as he walked unassisted along the corridor of the ward, greeting children, parents and doctors. In pictures released two days ago, he was using a wheelchair when he visited patients.
China hotel collapse kills 8; Rescuers search for 9 missing
Part of a hotel collapsed in the Chinese city of Suzhou killing eight people and rescue workers were searching on Tuesday for nine people missing in the ruins, state media reported.
The collapse of part of the Siji Kaiyuan Hotel in the coastal city happened on Monday afternoon. The Ministry of Emergency Management sent a team to help with the rescue work, media reported.
The cause of the collapse was under investigation, the Xinhua news agency reported. It published photographs of rescue workers combing through rubble in the search for survivors.
The Siji Kaiyuan is a budget hotel that opened in 2018. The part that collapsed was three storeys tall while an online booking site said the hotel had 54 rooms.
Read & Watch the latest news happening around the World with one Click – "STARVISION NEWS 3D PRO (14 July 2021)"
3D Pro: http://bit.ly/SVNews3DPro-14July2021