13 JULY 2021 – Starvision News 3D PRO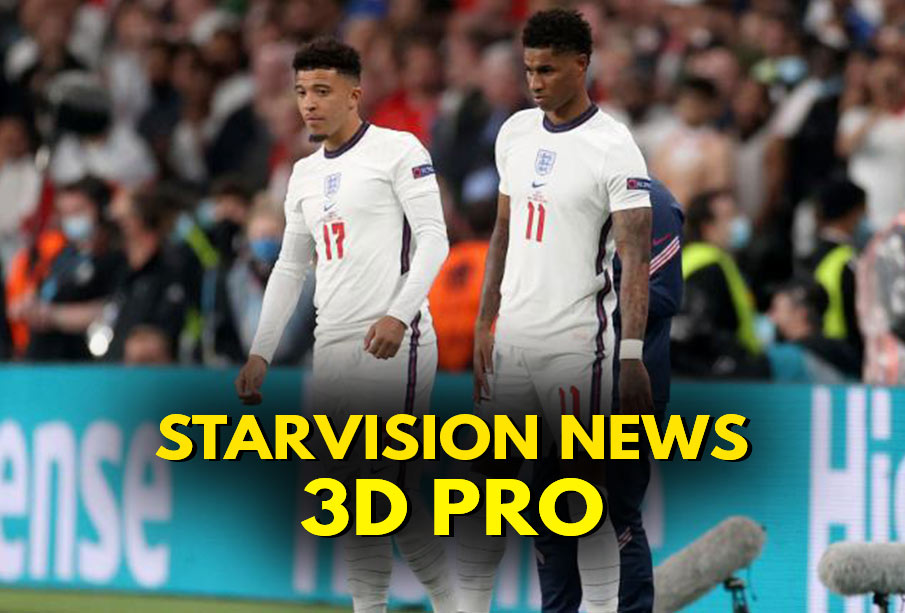 Racist abuse of England players is 'unforgivable'
England manager Gareth Southgate said the racist abuse aimed at Marcus Rashford, Jadon Sancho and Bukayo Saka after the Euro 2020 final defeat by Italy was "unforgivable". Prime Minister Boris Johnson and the Football Association also condemned it.
All three players missed penalties in the 3-2 shootout loss and were targeted on social media after the game. The Metropolitan Police is investigating the abuse and said "it will not be tolerated".
"It's just not what we stand for," said Southgate. "We have been a beacon of light in bringing people together, in people being able to relate to the national team, and the national team stands for everybody and so that togetherness has to continue. "We have shown the power our country has when it does come together and has that energy and positivity together. "It's my decision who takes the penalties, it's not a case of players not volunteering or more experienced players backing out."
England and Borussia Dortmund midfielder Jude Bellingham tweeted a picture of the three players wearing crowns and wrote: "We win together and we lose together. So proud to have team-mates with such top character. As for the racism, hurtful but not surprising. Will never get bored of saying that more needs to be done. Educate and control the platforms."
European football's governing body Uefa condemned the "disgusting racist abuse", adding: "We stand by the players and the FA's call for the strongest possible punishments."
On Monday, League Two side Leyton Orient said they had banned a fan for life in connection with the abuse. "The supporter in question's actions on Twitter were alerted to the club late last night, and action has been taken swiftly to issue a banning order," the club said.
"This England team deserve to be lauded as heroes, not racially abused on social media," said the prime minister. He later started a Downing Street briefing by praising the players, adding: "They brought joy to this country and to those who have been directing racist abuse I say 'shame on you and I hope you will crawl back under the rock from which you emerged'."
Lithuania, EU accuses Belarus of using refugees as a 'political weapon'
Lithuania's foreign minister and the EU's top diplomat accused Belarus on Monday of using illegal migrants as a political weapon to put pressure on the European Union because of the bloc's sanctions on Minsk.
Belarus was flying in migrants from abroad and sending them over the border into EU countries, minister Gabrielius Landsbergis said at a meeting of EU foreign ministers in Brussels.
"When refugees are used as a political weapon…I will talk to my colleagues in order for the European Union to have a common strategy," Landsbergis said. His words were later echoed by Josep Borrell, the EU's foreign policy chief, who said: "To use migrants as a weapon, pushing people against the borders, is unacceptable."
The EU should consider expanding economic sanctions that were imposed on Belarus in June, Borrell said. Nearly 1,700 migrants have entered Lithuania, an EU state, illegally from Belarus this year, more than 1,000 of them in July alone, according to Lithuania's border guard service.
"We need to be very strict with the regimes that are using these sorts of weapons, first of all with sanctions," he said.
HRH the Crown Prince and Prime Minister meets remotely with 72 newly appointed government officials
His Royal Highness Prince Salman bin Hamad Al Khalifa, the Crown Prince and Prime Minister, today met remotely with 72 newly appointed government directors, representing 26% of directors within the civil service. His Royal Highness highlighted that in line with HM the King's vision and aspirations, Bahraini citizens remain at the centre of the Kingdom's continued development.
His Royal Highness emphasised that serving the homeland is an honourable duty and responsibility, noting the importance of further strengthening public sector efficiency and performance. His Royal Highness noted the key role public sector executives play in ensuring government strategies and plans that further progress, the well-being of citizens, and development in the Kingdom are achieved.
His Royal Highness welcomed their appointment to their new positions within Team Bahrain, wishing them success in their duties serving the Kingdom and its citizens. His Royal Highness noted the importance of teamwork, innovation, and creativity across government workstreams, expressing his appreciation for the public sector's efforts in serving the Kingdom and its citizens.
For their part, the newly appointed government officials expressed their gratitude for the opportunity to meet His Royal Highness. The officials further noted His Royal Highness's continued guidance and support to the public sector. The newly appointed officials concluded by expressing their commitment to serving the Kingdom and its citizens, in line with the vision and goals of HM the King, and the guidance of HRH the Crown Prince and Prime Minister.
Chinese drugmakers agree to supply over 500 million vaccines to COVAX
The Global Alliance for Vaccines and Immunization (GAVI) said on Monday it had signed two advance purchase agreements with Chinese drugmakers Sinopharm and Sinovac to provide up to 550 million COVID-19 vaccines to the COVAX programme.
The new deals include up to 170 million doses of the Sinopharm shot and up to 380 million shots of the Sinovac vaccine, through to the middle of 2022, the statement said. Sinovac confirmed the agreement in a statement.
"The agreements, which come at a time when the Delta variant is posing a rising risk to health systems, will begin to make 110 million doses immediately available to participants of the COVAX Facility, with options for additional doses," GAVI said.
Deliveries can start quickly because both vaccines have already been granted emergency use listing by the WHO, GAVI Chief Executive Officer Seth Berkley said.
COVAX, which distributes vaccines to poorer countries, has struggled to meet its early commitments amid Indian export disruptions, forcing many countries to freeze their inoculation programmes in their early phases.
Gulf Air resumes direct flights to Tbilisi
Gulf Air, Bahrain's national carrier, announces that it will resume its direct operations to Tbilisi International Airport in Georgia starting with 3 weekly flights, beginning from July 15.
"We have been operating direct flights between the Kingdom of Bahrain and Georgia since 2017 and it is one of the airline's main destinations in the Caucasus region," Captain Waleed Abdulhameed AlAlawi, Acting CEO said.
"We are extremely happy to see a much healthier trend in summer traffic and the resumption of some of our most popular destinations as the global vaccination program continues to bring a sense of normalcy back into our routine."
The airline currently flies to and from Abu Dhabi, Dubai, Kuwait, Riyadh, Jeddah, Dammam, Medina, Muscat, Cairo, Amman, Casablanca, London, Paris, Frankfurt, Athens, Istanbul, Larnaca, Bangkok, Manila, Singapore, Dhaka, Colombo, the Maldives and several destinations in India and Pakistan.
Gulf Air has also successfully launched all of its seasonal destinations for the summer of 2021 with direct flights to Mykonos and Santorini in Greece, Malaga in Spain and Alexandria and Sharm El Sheikh in Egypt.
The company announced offering complimentary COVID-19 travel insurance coverage to all ticket holders including health and quarantine expenses in the unexpected circumstances of being diagnosed with or contracting COVID-19 during passengers' journeys.
All tickets booked, including redemption tickets, on Gulf Air flights for travel until 10 November 2021 are automatically covered with COVID-19 insurance at no extra cost. All passengers, according to the newly announced insurance policy and in the unfortunate event of being diagnosed with COVID-19 while traveling abroad, will be covered for repatriation assistance, medical and hospitals costs abroad as well as quarantine accommodation costs. Coverage is applicable on Gulf Air operated flights with Gulf Air ticket numbers that are purchased through the airline's website, the call centre, Gulf Air's sales offices or travel agents.
Being one of the few airlines that never stopped flying in 2020, Gulf Air continuously works closely with the government authorities across its network to resume operations as demand for travel grows.
Education Ministry to send passcodes for scholarships registration
The Ministry of Education announced that it will send passcodes for online registration of scholarships for Bahraini students from high school graduates from public and private schools, who have obtained an average of 90% or more and wish to compete for the scholarships for the academic year 2021/2022. The ministry will begin sending the passcodes on July 12- 14.
It also said students who did not receive the passcodes during Monday and Tuesday, must contact the technical support in the ministry on Wednesday on the following numbers: 17278742 – 17278892 or on the email it.support@moe.gov.bh from 8:00 am. to 1:00 pm.
Dutch PM Rutte 'sorry for easing restrictions too soon'
Dutch Prime Minister Mark Rutte has apologised for "an error of judgement" in scrapping most coronavirus restrictions in the country. The easing three weeks ago led to infection levels surging to their highest this year as nightlife resumed for large numbers of young people. Curbs on bars, restaurants and nightclubs were reimposed on Friday.
Previously Mr Rutte had refused to take any blame for the opening up, describing it as a "logical step". On Saturday, the country's public health institute reported more than 10,000 new Covid cases, the highest number in a single day since December. But so far this has not translated into a significant increase in hospital admissions, as most of the new cases are among young people.
More than 46% of the Netherlands' adult population – mostly from older age groups – is fully vaccinated. More than 77% have received at least one dose. Mr Rutte's apology comes as countries across Europe face rising numbers of cases of the Delta variant. French President Emmanuel Macron is expected to address the problem when he speaks to the nation on Monday evening.
Lightning strike kills 18 taking selfies in India
A lightning strike killed 18 people Sunday when a bolt blasted a watchtower where tourists were snapping storm selfies in Jaipur, India. There were a total of 27 individuals at the top of the 12th-century Amer Fort, the popular tourist attraction where the strike occurred, according to BBC News.
Some of the victims leaped to the ground as the lightning came down, and law enforcement officials have reported that most of them were young people. Video captured by ANI showed empty shoes left by the dead.
"Many people died in front of our eyes. If people had gotten help and authorities had reached on time then [they would have been alive]," an eyewitness told ANI. "We brought many people down. We rescued the people who were still alive, those who were still breathing and pulled some people out of the gorge."
Dozens more were killed as a result of a storm system that tore through northern India. Nine more deaths occurred in Rajasthan state, where Jaipur is located. At least another 41 people died in the state of Uttar Pradesh, plus seven others in Madhya Pradesh.
Lightning strikes are not uncommon in India, where they're known to kill at least 2,000 citizens annually, especially in rural and agricultural regions where people predominantly work and spend their time outdoors. Strikes are most common between June and September, during India's monsoon season, and are thought to be increasing in frequency, according to the Indian Meteorological Department. Data shows that lightning strikes have increased 30% to 40% in approximately 30 years — a trend which some believe has been nurtured by climate change.
Chief ministers in Uttar Pradesh and Rajasthan, with support from Prime Minister Narendra Modi, have plans to provide compensation for families who have lost loved ones.
It's far from the first incident of photographers risking — and losing — life and limb for the sake of a selfie. The most recent data available showed that at least 259 people worldwide died in selfie-related accidents between 2011 and 2017, including risky cliffside photo ops and too-close attempts at consorting with wild animals.
Read & Watch the latest news happening around the World with one Click – "STARVISION NEWS 3D PRO (13 July 2021)"
3D Pro: http://bit.ly/SVNews3DPro-13July2021