12 JUNE 2021 – Starvision News 3D PRO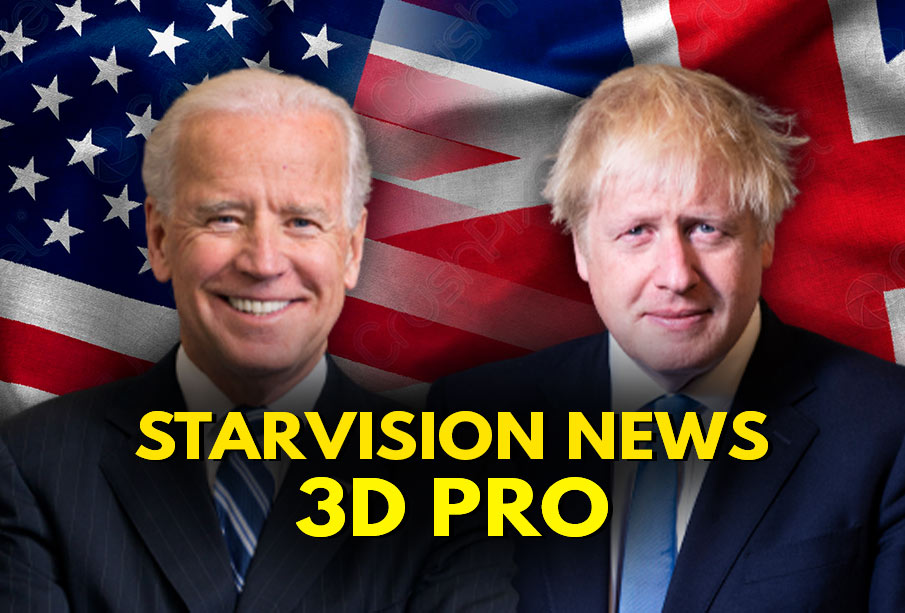 UK-US relationship is 'indestructible' says Boris Johnson
Boris Johnson has claimed the UK has an "indestructible relationship" with the US, after his bilateral meeting on Thursday with President Joe Biden. The prime minister is known not to be keen on the well-worn phrase "special relationship", believing it makes the UK look weak. But in an interview with the BBC after the pair met, he sought to underscore the closeness between the two nations, despite Biden's concerns about the damaging standoff with the EU over the Northern Ireland protocol.
"I don't mind the phrase 'special relationship' because it is special. But you know, it encompasses a reality which is that the UK and the US have a real congruence of views on some stuff that really matters to the world. And so we believe very strongly in democracy, we believe in human rights, we believe in the rules-based international order, we believe in the transatlantic alliance," Johnson said. Asked what he would call the connection between the two countries, he said, "you can call it the 'deep and meaningful relationship', whatever you want, the 'indestructible relationship'. It's a relationship that has endured for a very long time, and has been an important part of peace and prosperity both in Europe and around the world."
South Africa sells majority stake in national airline
The South African government is selling a 51% stake in South African Airways (SAA) to Takatso consortium, which will initially commit more than 3 billion rand ($221 million) to give the struggling airline a new lease of life.
SAA has been under a form of bankruptcy protection since December 2019, but its fortunes worsened during the COVID-19 pandemic and all its operations were mothballed in September 2020 when funds ran low. The airline is one of a handful of South African state companies that depend on government bailouts, placing the national budget under huge strain at a time of rapidly rising debt.
The partnership with Takatso will alleviate that financial burden, public enterprises minister Pravin Gordhan told journalists on Friday as the state would no longer provide any funding to the airline, which exited administration in late April after receiving 7.8 billion rand from the government. Gordhan added that the government will retain a 49% stake with the intention of eventually listing the airline to address future funding requirements.
Germany lifts travel warning for COVID risk areas
Germany plans to lift its tourist travel warning for areas considered high risk due to the coronavirus, Foreign Minister Heiko Maas said, in a move that takes effect on July 1, as signs emerge that the pandemic is slowing down.
"After long months of lockdown, we can look forward to more normality, and that includes travel," Maas said.
For European Union countries as well as Iceland, Liechtenstein, Norway and Switzerland, which are no longer classified as risk areas, the German Foreign Ministry's travel advice will in future only suggest that "special caution" is required.
The changes particularly affect Italy, large parts of Spain and, from next Sunday, the whole of Austria. The lifting of the travel warning comes as Germans gear up for their traditional summer holiday.
The German Air Transport Association (BDL) has already announced that from next month, travellers may fly to 217 European destinations in 38 nations, a return to almost the same numbers as in 2019 before the pandemic hit.
The coronavirus travel warning currently applies to all regions of the world where the number of new infections over a seven-day period exceeds 50 per 100,000 inhabitants.
From July 1, the travel warning will only apply to areas reporting an incidence rate of 200 per 100,000 over seven days, and for regions where dangerous new variants are spreading rapidly.
However, that only includes about 40 countries worldwide out of a total of about 200. But despite growing confidence, Berlin was quick to emphasize that dropping the travel warning was not an invitation to carelessness.
"Travel with reason and a sense of proportion, that is the motto of this summer," said Maas. "The danger from the virus and its variants is far from over," he said, indicating Asia and South America. "That's why we will continue to warn against travel where it makes sense: in high-incidence and virus-variant areas," the minister.
Sputnik V demonstrates 94.3% efficacy and a high safety profile in Bahrain
The Russian Direct Investment Fund (RDIF, Russia's sovereign wealth fund) announces new data from Bahrain's Ministry of Health, obtained during the Kingdom's national vaccination campaign, confirming the safety and high efficacy of the Russian Sputnik V Covid-19 vaccine. An efficacy study was conducted in Bahrain in accordance with WHO guidelines involving more than 5,000 subjects. Overall efficacy beyond 14 days after administering a second dose was estimated at 94.3%. Analysis is based on data collected between February and early May 2021. The data of the Ministry of Health confirmed that, of those vaccinated with Sputnik V and infected 14 days after their second vaccine dose, 98.6% experienced mild symptoms.
Vaccination data indicates high safety of Sputnik V:
No serious adverse events associated with vaccination

No deaths related to the vaccination

No cerebral vein thrombosis (CVT) cases after vaccination
Sputnik V has a number of key advantages:
Efficacy of Sputnik V is 97.6% based on the analysis of data on the coronavirus infection rate among those in Russia vaccinated with both components of Sputnik V from December 5, 2020 to March 31, 2021

The Sputnik V vaccine is based on a proven and well-studied platform of human adenoviral vectors, which cause the common cold and have been around for thousands of years.

Sputnik V uses two different vectors for the two shots in a course of vaccination, providing immunity with a longer duration than vaccines using the same delivery mechanism for both shots.

The safety, efficacy and lack of negative long-term effects of adenoviral vaccines have been proven by more than 250 clinical studies over two decades.

There are no strong allergies caused by Sputnik V.

The storage temperature of Sputnik V at +2+8 C means it can be stored in a conventional refrigerator without any need to invest in additional cold-chain infrastructure.

The price of Sputnik V is less than $10 per shot, making it affordable around the world.
Philippines becomes polio-free after vaccination campaign
The Philippines is once again polio-free, the World Health Organization said Friday, after a successful vaccination campaign that has raised hopes for COVID-19 inoculations in a country plagued by mistrust of jabs.
Polio re-emerged in the country in 2019, nearly two decades after its last cases were detected, sparking a nationwide effort to immunize millions of children against the crippling disease. At least 17 people were infected, but health authorities said they have not detected the virus in a child or the environment in the past 16 months.
"We are celebrating freedom from polio," said Rabindra Abeyasinghe, the WHO representative in the Philippines.
More than 80 percent of unvaccinated children were immunized in the nationwide effort, which Abeyasinghe said was "adequate to interrupt the transmission". The 2019 outbreak began shortly after deadly dengue fever and measles epidemics and as vaccination coverage plunged partly due to the botched rollout of a dengue shot a few years earlier.
Polio is highly infectious and can lead to paralysis and even death. There is no known cure. The virus that re-emerged in the Philippines had genetically mutated from a weakened strain of wild polio that is contained in the oral vaccine used all over the world to control the disease.
Philippine health officials hope the success of the polio vaccination effort will be replicated in its rollout of COVID-19 jabs. Only around 1.6 million people — or just over one percent of the population — have been fully vaccinated against the disease. The glacial pace has been blamed on supply shortages and safety fears.
"We have numerous surveys indicating that vaccine confidence is low, but this (polio) campaign has proven otherwise," Health Undersecretary Rosario Vergeire said.
"Hopefully these kinds of activities and these kinds of efforts will be paralleled and patterned when we do our COVID-19 vaccinations and when supplies are ready." (AFP)
Biden to meet Germany's Merkel in Washington
US President Joe Biden will meet outgoing German Chancellor Angela Merkel in Washington next month, the White House said on Friday. "President Biden looks forward to welcoming Chancellor Angela Merkel of Germany to the White House on July 15, 2021," press secretary Jen Psaki said. He added that ending the COVD-19 pandemic and tackling climate change were top of the agenda.
Interior Ministry wins international pace sticking competition
The Interior Ministry has won the first position in the International Pace Sticking Championship. 12 teams participated in the event, organised by the British Royal College (Sandhurst).
The Interior Ministry participated with two teams, which won the first and second positions. The two teams succeeded in collecting the highest total scores, and in clinching the best leader and best participant awards.
Commander of Royal Academy of Police (RAP) congratulated the Interior Minister for the accomplishment that reflected the support provided to the teams. The Interior Ministry took part in the global event with full readiness and dedication to win after receiving comprehensive training. The Commander said that RAP would continue participating in such events to increase the Kingdom's accomplishments.
Oman Air resumes flights to Lebanon
Oman Air has announced the resumption of flight services to Lebanon with two trips per week.
The airline said in a statement: "Fall in love with #Lebanon all over again with our twice weekly service to Beirut. Roam the ruins, bask on beautiful beaches or indulge your favourite foodie cravings. No quarantine with negative COVID-19 test results issued within 96 hours of travel."
Read & Watch the latest news happening around the World with one Click – "STARVISION NEWS 3D PRO (12 June 2021)"