10 JUNE 2021 – Starvision News 3D PRO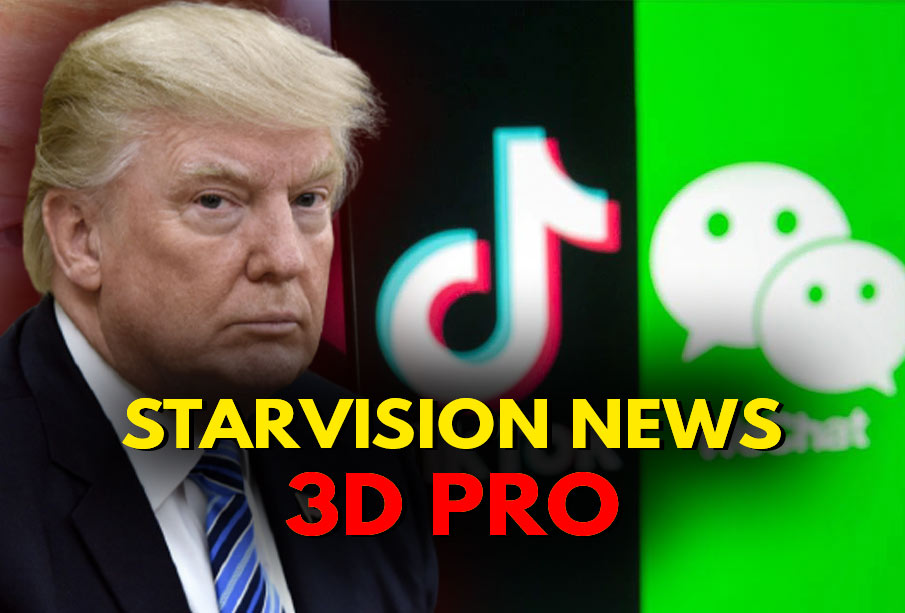 Biden drops Trump attempt to ban TikTok, WeChat
President Joe Biden on Wednesday withdrew a series of Trump-era executive orders that sought to ban new downloads of WeChat and TikTok, and ordered a Commerce Department review of security concerns posed by those apps and others.
The administration of former President Donald Trump had attempted to block new users from downloading the apps and ban other technical transactions that Chinese-owned short video-sharing app TikTok and WeChat both said would effectively block the apps' use in the United States. The courts blocked those orders, which never took effect.
A separate U.S. national security review of TikTok launched in late 2019 remains active and ongoing, a White House official said, declining to offer any details. The White House remains very concerned about the data risks of TikTok users, another administration official told reporters.
The Biden order directs the Commerce Department to monitor software applications like TikTok that could affect U.S. national security, as well as to make recommendations within 120 days to protect U.S. data acquired or accessible by companies controlled by foreign adversaries. WeChat, which has been downloaded at least 19 million times by U.S. users, is widely used as a medium for services, games and payments.
Michael Bien, the lead lawyer for the WeChat Users Alliance, which had sued to block the Trump order, praised the Biden administration for revoking the "wrong-headed ban on WeChat that … would have led to the unprecedented shutdown of a major platform for communications relied on by millions of people in the United States."
Biden's new executive order revokes the WeChat and TikTok orders Trump issued in August, along with another in January that targeted eight other communications and financial technology software applications. The January Trump order directed officials to ban transactions with eight Chinese apps including Ant Group's Alipay and Tencent Holdings Ltd's QQ Wallet and WeChat pay; no bans have been issued to date. The Trump administration contended that WeChat and TikTok posed national security concerns because sensitive personal data of U.S. users could be collected by China's government.
US investigating source of leaks of billionaires' tax records
The US tax authority on Tuesday said it was investigating the leak of tax records of the country's super rich, including Jeff Bezos and Elon Musk, included in a media report.
"I can't speak to anything with respect to specific taxpayers," Internal Revenue Service (IRS) chief Charles Rettig told the Senate Finance Committee. "I can confirm that there is an investigation, with respect to the allegations that the source of the information in that article came from the Internal Revenue Service," he added. The unauthorized disclosure of confidential government information is illegal, said a spokesperson for the US Treasury Department, dpa reports.
US media outlet ProPublica published a report which it said was based on "a vast cache of IRS information showing how billionaires like Jeff Bezos, Elon Musk and Warren Buffett pay little in income tax compared to their massive wealth — sometimes, even nothing." ProPublica used "confidential tax records" to compare the federal income taxes of the 25 richest Americans for the years 2014 to 2018 with their asset growth according to Forbes' list of billionaires. It came to the conclusion that the "true tax rate" was on average just 3.4 per cent.
Ferrari turns to tech industry for its electric era leader
Ferrari has turned to technology industry veteran Benedetto Vigna to drive the luxury sports car maker known for its roaring, high-octane engines into a new era of silent, electric powertrains.
Vigna, 52, currently runs the biggest division of semiconductor maker STMicroelectronics (ST), where he has worked since 1995 and helped pioneer the sensors first used in iPhones to rotate the screen by turning the handset. Vigna's appointment announced on Wednesday shows Ferrari's development strategy remains firmly anchored in manufacturing cutting-edge, high-end sports cars for an electric era, rather than repositioning itself as a pure luxury goods company.
It also highlights the challenges facing carmakers as they adapt to the green revolution forcing the industry to move away from combustion engines and embrace new technologies from batteries to connectivity to autonomous driving. With cars starting at over 200,000 euros ($244,000), investors often look at Ferrari as more of a luxury firm than automotive specialist and there had been some speculation its next CEO might come from the world of consumer goods.
Thirteen inmates evacuated after blaze; Probe committee set up
The Civil Defence evacuated thirteen inmates from one of the buildings at the Dry Dock Detention Centre after a fire broke out in the premises.
The General Directorate for Reformation and Rehabilitation said that two inmates, aged 39 and 40, had been transferred to the hospital via the National Ambulance Service after inhaling smoke.
In a statement, the directorate said that the Public Prosecution had been notified, adding that a probe committee chaired by the Civil Defence, had been set up to investigate the causes of the blaze and submit a report.
Inmate passes away at SMC following COVID-19 infection
A 48-year-old male, Hussein Ahmed Issa Barakat, has died this morning at Salmaniya Medical Complex (SMC), following infection with COVID-19. The serving inmate was being treated at SMC under the supervision and care of the Ministry of Health.
His condition required his placement on a respirator in recent days. A review of the deceased's medical records has confirmed that he was vaccinated in February and March this year.
In accordance with COVID-19 procedures for inmates, the deceased was isolated following a positive COVID-19 test and placed under the care of the Ministry of Health prior to his transfer to the Salmaniya Medical Complex on the 29th of May. The deceased was in regular contact with his family throughout his illness, via video and voice calls.
Water, electricity projects exceeding $1.53 billion across Bahrain
Deputy Prime Minister and Ministerial Committee for Development and Infrastructure Projects Chairman Shaikh Khalid bin Abdulla Al Khalifa said that Bahrain's positive and rapid economic growth in the prosperous reign of HM King Hamad bin Isa Al Khalifa and with the support of His Royal Highness Prince Salman bin Hamad Al Khalifa, Crown Prince and Prime Minister, have been accompanied by a strong drive to provide high-standard infrastructure through strategic projects, especially in the electricity and water areas.
The government's belief in the importance of electricity and water as important sources of energy, and the backbone of other services and other sectors, prompted it through the Electricity and Water Authority to plan and implement quality projects worth more than $1.53 billion during the past decade and others being implemented, Shaikh Khalid said as he chaired the meeting of the Ministerial Committee for Development and Infrastructure Projects.
Electricity and Water Minister Wael bin Nasser Al Mubarak briefed the meeting on the projects to develop the electricity and water networks. Shaikh Khalid thanked Al Mubarak and the Electricity and Water Authority (EWA) Chief Executive Officer Shaikh Nawaf bin Ibrahim Al Khalifa and the personnel for their efforts to implement the government's program for the 2019-2022 related to the development of electricity and water networks that would secure a supportive environment for sustainable development, enhance the readiness of energy and water infrastructure and raise the efficiency and sustainability of the services provided.
The EWA projects aim to ensure that energy reaches all regions of the Kingdom and that it is regularly and sustainably supplied with this vital service to meet the current and future needs of the residential, investment, commercial, industrial and other sectors, Shaikh Khalid said.
"We have the right to be proud of the EWA high completion rates of 78% as an average of implementing its projects within the current government program until May," he said.
Projects reviewed during the meeting include the 400 kV Electricity Transmission Network Development Project at a cost of $740 million (Completed).
A 220-kV electricity transmission network development project (Phase 1) at a cost of $200 million (96% completed). It is scheduled to be completed in 2021 and aims to develop the 220- and 66-kV electrical transmission network to meet the growing demand for electricity and the transmission of electrical energy generated from power plants to industrial, commercial and residential centers in Bahrain.
The 220- and 66-kilovolt electricity transmission network development project for housing projects – (Phase Two) at a cost of $200 million (52% completed). The construction of electricity transmission stations for Al Ramli housing project at a cost of $50 million (55% completed).
The infrastructure development project on Hawar Islands at a cost of $193 million (40% completed). It aims to provide Hawar Islands region with the electricity it needs for future urban development and all vital facilities on the islands.
The project to construct a water distribution station for the Ramli housing project at a cost of $30 million. The project is 30% completed and is expected to be finished in 2023.
The project to develop water transmission networks in Salman Town, Khalifa Town and East Hidd at a cost of $70 million. Started in 2021, it is expected to be completed in 2023. It is currently 30% completed.
The project to develop a water transmission network (Busaiteen and Juffair) at a cost of $50 million dollars. It was completed in 2020.
April, May municipal fees reduced for 151 Bahraini families
Works, Municipalities Affairs and Urban Planning Minister, Essam bin Abdullah Khalaf, on Wednesday issued an edict on reducing municipal fees for 151 Bahraini families living in rented houses for the months of April and May 2021.
Khalaf said that the edict is in line with the directives of His Royal Highness Prince Salman bin Hamad Al Khalifa, the Crown Prince and Prime Minister, to alleviate the burden of living on the citizens, and within the framework of the Cabinet's decision to deal with the citizens who live in rentals and home owners on equal par regarding municipal fees.
The minister said that the move is based on His Majesty King Hamad bin Isa Al Khalifa's constant keenness to provide the requirements of decent living for all the citizens, through reduced municipal fees, exempting low-income citizens from paying fees in the future or dropping their unpaid debts.
He pointed out that the Ministry seeks to harness all its potentials and resources to improve the standard of living of citizens and reduce municipal fees on them. He indicated that there is ongoing coordination between the Municipalities Affairs Department and the Customer Service Directorate at the Electricity and Water Authority (EWA) to reduce municipal fees in electricity and water bills for those families.
Largest solar energy system project agreement signed
Under the patronage of Sustainable Energy Authority (SEA) President Dr. Abdulhussein bin Ali Mirza, Majid Al Futtaim Company and Yellow Door Energy Company signed an agreement virtually to install the largest central solar energy system with a maximum production capacity of 6.2 megawatts to provide clean energy for The Bahrain Mall.
The event was attended by Chief Sustainability Officer at Majid Al Futtaim Holding Ibrahim Al-Zu'bi, Carrefour Bahrain Director at Majid Al Futtaim Retail Jerome Eckel, Chief Commercial Officer at Yellow Door Energy Rory McCarthy, CIO of Economic Development Board Mahmood Al Aradi and a number of experts from the SEA and representatives of Majid Al Futtaim, Carrefour Bahrain and Yellow Door Energy.
It is considered a pioneering project and a great initiative for the private sector to support the national efforts to implement the National Renewable Energy Plan by encouraging the use of clean energy and reduce electricity consumption costs, in addition to reducing the carbon footprint of buildings and major commercial facilities, thus contributing in achieving national goals related to renewable and sustainable energy resources.
Read & Watch the latest news happening around the World with one Click – "STARVISION NEWS 3D PRO (10 June 2021)"