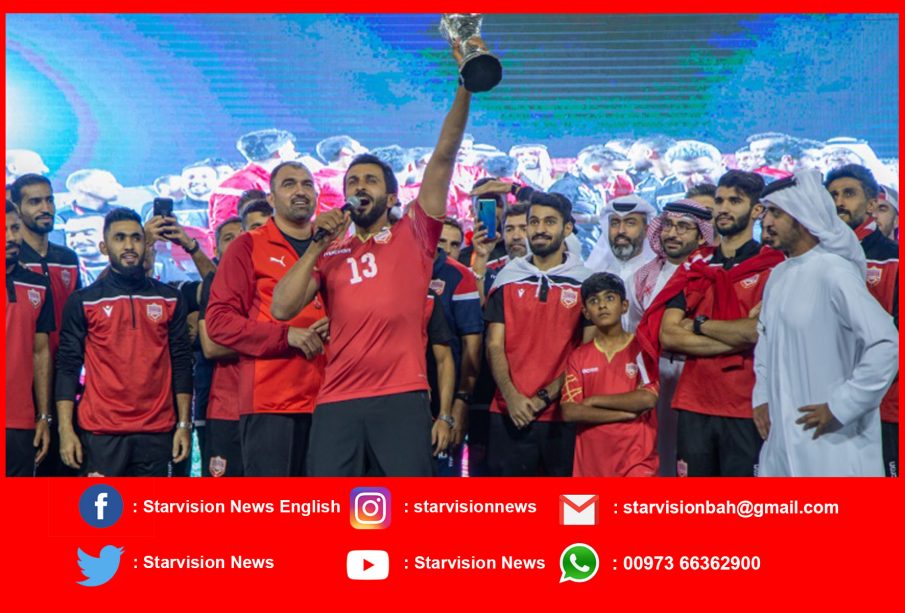 Representative of His Majesty the King for Charity Work and Youth Affairs, National Security Advisor and Royal Guard Commander Major General His Highness Shaikh Nasser bin Hamad Al Khalifa paid tribute to His Majesty King Hamad bin Isa Al-Khalifa, hailing the royal support which helped the national team win the first Gulf Cup in its history.
HH Shaikh Nasser bin Hamad Al Khalifa was addressing a big celebration, which was held at the Bahrain International Circuit (BIC), in the presence of highnesses, ministers, officials, lawmakers and sponsoring companies.
He underlined the sweeping popularity of football, hailing the celebration which reflects unwavering allegiance to HM the King. He saluted Bahraini fans who attended the event massively to celebrate the maiden Gulf Cup.
"The spectacular welcoming of the national team by the people of Bahrain  ireflects sweeping support to the team which succeeded in lifting the Gulf Cup", said HH Shaikh Nasser bin Hamad Al Khalifa.
He commended the efforts exerted by the Bahrain Football Association (BFA) board, chaired by Shaikh Ali bin Khalifa Al-Khalifa, which contributed to the success of the national team in lifting the 24th Gulf Cup.
He commended the administrative and technical staff and the players for their dedication and determination, extending deepest thanks to Bahraini fans which attended the final match and cheered the national team.