HH Shaikh Nasser bin Hamad Al Khalifa, Representative of HM the King for Charity Works, the National Security Advisor,  President of the Supreme Council of Youth and Sports and Honourary President of Bahrain Royal Endurance and Equestrian Federation (BREEF), deputised HH Shaikh Isa bin Abdullah Al Khalifa, President of BREEF to honour the winners of the endurance season's opening race which covered a distance of 120 km, held at the endurance village. HH Shaikh Nasser has keenly followed the race and his presence was a source of motivation for all the jockeys who took part in the event.
<iframe width="560″ height="315″ src="https://www.youtube.com/embed/5k6hDfdTxzo" frameborder="0″ allow="accelerometer; autoplay; encrypted-media; gyroscope; picture-in-picture" allowfullscreen></iframe>
HH Shaikh Nasser underscored that the endurance season has gotten off to the best start thanks to the strong participation and challenge the first round featured with many jockeys prepared greatly to make the first a huge success.  He also praised the exceptional organisation to the event, congratulating the jockeys who competed on their solid showings.
From his side, HH Shaikh Isa bin Abdullah Al Khalifa praised HH Shaikh Nasser's follow-up to the race, stating that HH's presence gave the race a special dimension. He explained that the successful organisation to the first round encourages BREEF to double their efforts to make the new endurance season an exceptional one.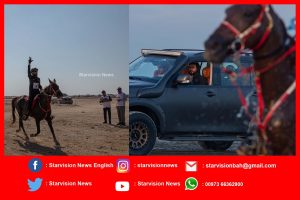 It's worth noting that HH Shaikh Isa crowned jockey Nayef Hassan Al Boluchi of Al Zaeem Studs as the winner of the race, followed by Dana Al Binghadeer and Othman Al Awadhi in second and third places respectively. The winner clocked in 4 hours, 29 minutes and 46 seconds, only one minute ahead of the runner-up. Al Awadhi, meanwhile, was seven minutes behind second-placed Al Binghadeer.
https://youtu.be/5k6hDfdTxzo