MANAMA: Aryabhata  House  emerged  as the overall champions in the Indian School Bahrain (ISB) Youth Festival Tarang 2019 which concluded with a glittering grand finale at the school campus in Isa Town on Thursday.  Aryabhata  House   won the overall championship with 1806  points in the  hotly contested youth festival.
Vikram Sarabhai House which  got 1666 points  is the runners-up. JC Bose House  with 1559  points bagged the third prize while CV Raman House   which got  1400  points was placed in the fourth position in the youth festival.Indian School Class IX student Devisree Sumesh who belongs to the Aryabhata   House  won the coveted Kalaratna  award with 72  points. The Kalashri award was won by Class X student Athulkrishna Gopakumar with 59 points. Athulkrishna belongs to  the JC Bose House.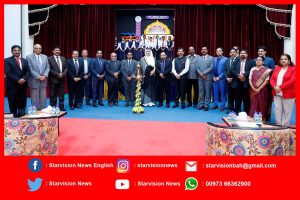 Following students emerged as the Group Champions in different levels:  Anagha Sreedharan Lal (Level A – 58 Points-JC Bose House ),  Sneha Muralidharan ( Level B- 54 Points-VSB House ), Krishna Rajeevan Nair( Level C -61 points-CVR  House), Shreya Muralidharan  (Level D- 46 Points-VSB  House ). Following students won the House Star Awards: Rudra Rupesh Aiyer  (VSB House -52 Points), Sannidhyu Chandra  (CV Raman-32 Points), Jeon Biju Manakkal  (JC Bose-50 Points) , Nandana Rathna Pradeep (Aryabhata- 56 Points).
The overall championship trophies were distributed in the colorful ceremony   held at the    Jashanmal auditorium of the school.  Principal VR Palaniswamy welcomed the gathering. ISB Chairman Prince S Natarajan  who presided the function, declared overall championship and  Kalaratna and Kalashri awards.   Chief Guest Ministry of Labour Assistant Undersecretary for Labour Affairs Ahmed J Al Haiki, Guests of Honour  Santy Excavation  and Construction Managing Director R Ramesh and BKG Holding SPC/Qatar Engineering Laboratory Chairman and General Manager KG Baburajan   distributed the trophies to the champions.    Head Teacher Activities Sreekanth S  presented the youth festival report. ISB  well-wisher  S.Mohankumar was presented a memento.  ISB  Hon. Secretary Saji Antony   gave vote of thanks.  Asst. Secretary Premalatha NS,   EC Members  Adv. Binu Mannil Varughese,  Mohammad Khursheed Alam, Rajesh MN,Ajayakrishnan V , Saji George,Deepak Gopalakrishnan,   Riffa Campus Principal Pamela Xavier and Staff Representative  Johnson K. Devassy, community leaders S Inayadulla, Soman Baby and Boban Idiculla attended the ceremony.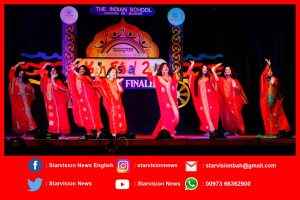 Prize winning Folk Dance, Arabic Dance Cinematic Dance and Western Dance were presented. Earlier the programme started with the national anthems of Bahrain and India followed by the reading of verses from the Holy Quran , lighting of the lamp and school prayer.