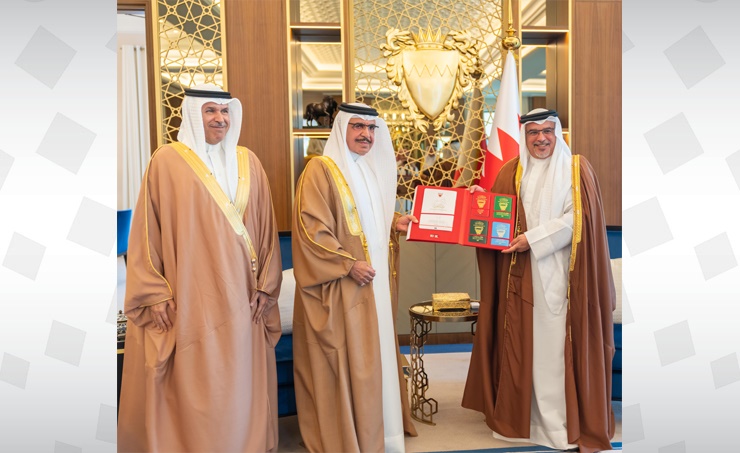 Manama: His Royal Highness Prince Salman bin Hamad Al Khalifa, the Crown Prince and Prime Minister, today received the Minister of Interior, His Excellency General Shaikh Rashid bin Abdullah Al Khalifa, and the Undersecretary for Nationality, Passports and Residence Affairs (NPRA), HE Shaikh Hisham bin Abdulrahman Al Khalifa, at Gudaibiya Palace.
The meeting took place on the occasion of the launch of the e-Passports project, a new government initiative that uses advanced modern technologies to facilitate ease of travel and transit at airports.
His Royal Highness highlighted the importance of adopting innovative solutions across government services to meet the Kingdom's comprehensive development goals, led by His Majesty King Hamad bin Isa Al Khalifa.
Referring to the launch of the Kingdom's e-Passport project, HRH Prince Salman bin Hamad noted the importance of the project in advancing the quality of services for citizens. His Royal Highness took the opportunity to commend the efforts of all who have contributed to the success of the e-Passport project.
His Royal Highness noted the Kingdom's ongoing commitment to digital transformation, a key element in improving the overall development, productivity, quality, and optimisation of citizen-led services.
For his part, the Minister of Interior expressed his gratitude for the opportunity to meet with His Royal Highness and noted HRH the Crown Prince and Prime Minister's commitment to advancing the quality of services provided to the Kingdom's citizens.
His Highness Shaikh Mohammed bin Salman bin Hamad Al Khalifa also attended the meeting.