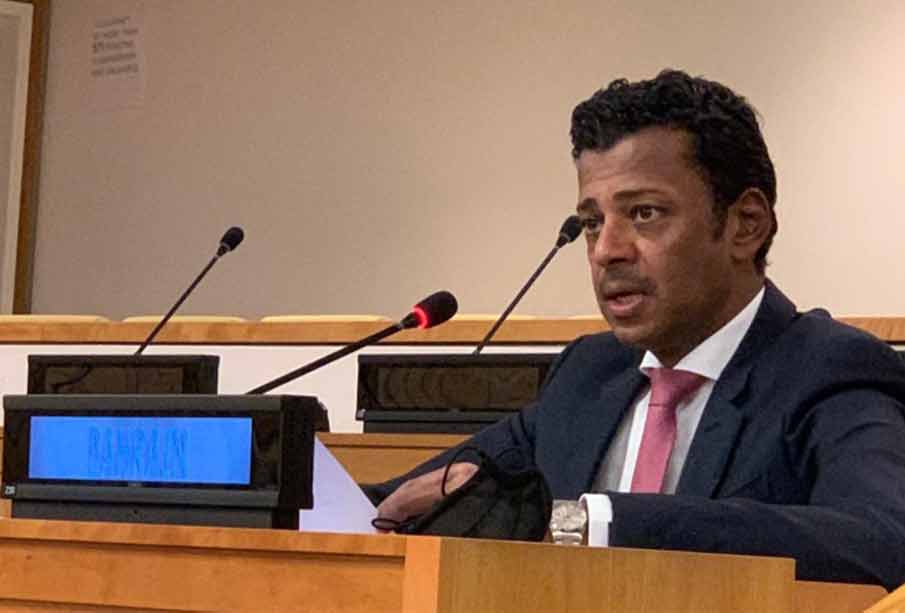 The Permanent Representative of Bahrain to UN in New York Ambassador Jamal Faris Al-Ruwaie participated in the general panel discussion session of the Special Political Issues and Decolonization Committee (4th Committee).
He stressed the important role of the United Nations in addressing international and regional problems and finding appropriate solutions to settle them.
He underlined the need for the international community to take serious steps to achieve the goals of the Declaration on Granting Independence to Colonial Countries and Peoples and the implementation of United Nations resolutions in this regard.
The Ambassador highlighted Bahrain's vision, under the leadership of His Majesty King Hamad bin Isa Al Khalifa, as a strategic option to achieve peace and stability process in the Middle East, promote tolerance, coexistence and openness to religions and cultures and establish broader relations for the benefit of the countries and peoples of the region.
He reiterated support toefforts aimed at resolving the Palestinian issue in accordance with the two-state solution, resolutions of international legitimacy and the Arab Peace Initiative.
He pointed out the recent signing of a joint historic statement between the Kingdom of Bahrain and the State of Israel on establishing diplomatic relations, in addition to a number of memoranda of understanding dealing with economic relations, communications, trade, air services and personnel movement, banking and financial services, cooperation between the two ministries of foreign affairs and other areas joint cooperation.
The Permanent Representative affirmed the right of the United Arab Emirates to restore its sovereignty over the three UAE islands occupied by Iran (Greater Tunb, Lesser Tunb and Abu Musa), and for Iran to respond seriously to the UAE serious efforts to resolve this issue through negotiation or the International Court of Justice.
He also renewed Bahrain's support for the serious efforts made by the Kingdom of Morocco to find a political solution to the issue of the Moroccan Sahara, on the basis of the Moroccan initiative for autonomy and the relevant Security Council resolutions, and within the framework of Morocco's sovereignty and territorial integrity, in addition to the political process in implementation of Security Council resolutions under the supervision of Secretary-General of the United Nations.