Team Bahrain's run at the 2019 IMMAF World Championship started with a blast. The athletes representing the Kingdom secured five wins over six bouts and turned the Day 1 of the tournament into a huge success for the hosts, holders of the first position of the international rankings, a feat that will be on the line throughout the competitions.
The first fighter entering the 2019 IMMAF WC cage was Abdulla Alyaqoob, who scored a unanimous decision over Cristiano Ottaviani, from Italy. The win came with a dominant performance by the Bahraini prospect.
The same scenario was seen in the next bout, a Bantamweight contest, between Bahrain's Abdulla Mubarak and Czech's Miroslav Peroutka. The Bahraini controlled the match and put on a stellar performance to secure 2-0 in the day for his country, leaving the crowd ecstatic.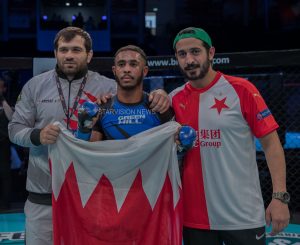 At Lightweight, Abbas Khan was able to overcome Pavel Senchenko, from Ukraine, handing Team Bahrain one more victory in the first day of competitions.
Ramazan Gitinov sent a message to the entire Welterweight division with a submission win over Jairo Carreon, from Mexico, while Sultan Omarov got a knockout win over Carlos Gamboa, getting his Middleweight run off to a great start.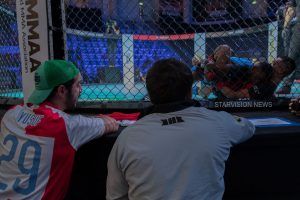 Throughout the day, His Highness Shaikh Khaled bin Hamad Al Khalifa proved once again his commitment to the sport of MMA, and its development in the Kingdom of Bahrain by cornering fighters and giving them advice during their bouts and in-between rounds as well. Shaikh Khaled was an energetic presence for the athletes, who welcomed the chance of listening and taking in his advices.
Follow us on Twitter – twitter.com/StarvisionN
Like & Follow us on Facebook – www.facebook.com/starvisionnewsenglish