3 JUNE 2021 – Starvision News 3D PRO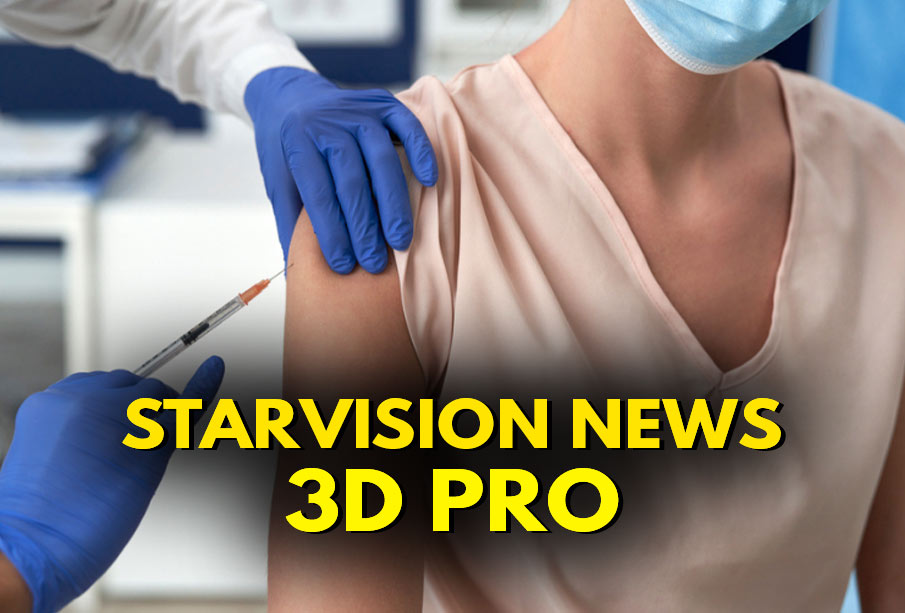 Bahrain approves 'SOTROVIMAB' for emergency use in treating COVID
Bahrain has approved "Sotrovimab" for emergency use, a new drug by GlaxoSmithKline (GSK) for the treatment of COVID-19. The decision to add "Sotrovimab" to COVID-19 treatment protocols follows emergency use approval by the US Food and Drug Administration (FDA) as well a comprehensive review of GSK's clinical trials.
"Sotrovimab-VIR-7831" develops "monoclonal antibodies" and will be used to treat infected adults and adolescents with mild to moderate COVID-19 symptoms who are at risk of their condition deteriorating and resulting in hospitalisation.
Safety and efficacy evidence demonstrates a reduction in the number of cases requiring hospitalisation for more than 24 hours and a reduction in the number fatalities by 85%, when administered at an early stage of treatment.
Huawei launches new operating system for phones
China's Huawei Technologies launched its Harmony operating system for smartphones on Wednesday, looking to recover from U.S. sanctions that have hobbled its handset business. Huawei will start rolling out HarmonyOS on selected smartphone models, offering users the chance to switch from the current operating system based on Google's Android platform.
The use of HarmonyOS means the company will no longer be wholly reliant on Android. U.S. sanctions banned Alphabet Inc's Google from providing technical support to new Huawei phone models and access to Google Mobile Services, the bundle of developer services upon which most Android apps are based.
Rather than being a like-for-like replacement, Huawei is billing HarmonyOS as an 'Internet-of-Things' platform, aimed at operating on and connecting other devices such as laptops, smartwatches, cars and appliances. The company unveiled several new products using HarmonyOS, including a tablet, a smart watch and a stylus, during a video launch from the company's headquarters in Shenzhen. The presentation ended with a teaser for the flagship P50 phone, whose spring launch was delayed "for reasons that everyone is aware of," said Richard Yu,CEO of Huawei's Consumer Business Group.
Huawei is aiming to have HarmonyOS on 200 million smartphones and 100 million third-party smart devices by the end of the year, said Wang Chenglu, president of Huawei Consumer Business Group's software department, who has led Huawei's efforts to develop HarmonyOS since 2016. Wang spoke at a media roundtable a day earlier and his comments were embargoed until Wednesday.
China's leading telecommunications equipment maker found itself on a U.S. trade blacklist in May 2019 due to national security concerns. Huawei has repeatedly denied it is a risk. The ban put Huawei's handset business under immense pressure. Once the world's biggest smartphone maker, Huawei is now ranked sixth, with a 4% market share in the first quarter.
The presentation did not feature any new smartphones, although a company press release said two older high-end models would be re-released. The company is looking into providing upgrades for some components like batteries for users with older phones, Yu said.
But Wang said the company was looking beyond smartphones with HarmonyOS. He said the smartphone market had plateaued and smartphones remained the dominant device in people's lives largely because most developers had few other platforms to develop for. Instead, there was a need for a system to bridge the gap between devices, Wang said.
"The problem with existing operating systems is that devices can't be connected easily," with users often having to download separate apps to get things to connect, Wang said. "But Harmony can enable devices to be connected to form a super device. It will work as one file system, literally one device," Wang said.
Wang said he would welcome other smartphone makers adopting HarmonyOS, but added Huawei sees big opportunities in working with makers of non-smartphone devices. Will Wong, an analyst at IDC, said it was not essential for Huawei that other smartphone makers adopt HarmonyOS.
"(But) for Huawei to achieve its ambition, it will be important to get other electronics brands and even automakers onboard for the OS, and China provides a favourable market ecosystem to achieve this," said Wong.
Australia extends Melbourne COVID-19 lockdown for 2nd week
The Australian state of Victoria extended on Wednesday a snap coronavirus lockdown in its capital of Melbourne for a second week, as it scrambles to rein in a highly contagious variant first detected in India, but will ease some curbs elsewhere. Last Thursday's lockdown in Australia's second most populous state was to have run until Thursday, following the detection of the first locally acquired cases in three months, but infections rose and the number of close contacts reached several thousand.
"If we let this thing run its course, it will explode," the state's acting Premier James Merlino told reporters in Melbourne. "This variant of concern will become uncontrollable and people will die." "No one…wants to repeat last winter," he added, referring to one of the world's strictest and longest lockdowns that the southeastern state imposed in 2020 to leash a second wave of infections.
More than 800 people died in that outbreak, accounting for about 90% of Australia's total deaths since the pandemic began. Snap lockdowns, regional border curbs and tough social distancing rules have largely helped Australia suppress prior outbreaks and keep its COVID-19 figures relatively low, at just over 30,100 cases and 910 deaths.
BRAVE CF President Mohammed Shahid touches down in Belarus looking to develop MMA
BRAVE Combat Federation has been breaking records and traveling the world with a mission to develop the global mixed martial arts community through focusing on grassroots development combat sports infrastructures in host nations. This morning, the President of BRAVE CF Mohammed Shahid landed in Minsk, Belarus with eager and determined to do the same for the Eastern European country.
BRAVE CF is hosting their 51st event this weekend in Minsk, Belarus featuring the biggest and brightest national talents to represent their country on a global scale and compete against international talent.
"I'm looking forward to seeing Belarusian talent perform and showcase their skills against international fighters in their home country to a local audience," says Mohammed Shahid. "We are confident that MMA in Belarus will have a big rise in popularity and development after this event."
The fastest growing promotion in the world's main goal has been clear since its establishment: to provide opportunities for fighters from across the globe and connect local promotions and MMA federations in a mission towards developing combat sports in the country and fostering the upcoming generation of fighters.
"We have visited so many countries throughout our journey to help facilitate a global ecosystem for MMA," says Mohammed Shahid. "Our goal, apart from national sports development, is also to bring a positive change to MMA that will see the best talent from each country becoming global stars with talent being the only variable."
He also added, "Belarus is the 7th European country we visit, and it definitely won't be our last. There are plenty of European fighters who are yet to be given an opportunity and we look forward to showing the excellence of European fighters to the world," and thanked the National Olympic Committee of the Republic of Belarus and Rukh Sport Management (RSM) for their excellent work, support, and resources in making this collaboration a success
BRAVE CF 51 marks the 22nd country visited by the global promotion on their escapade towards uniting the world through the sport of mixed martial arts and highlighting talent from across the world.
HM King's support for sports sector praised by HH Shaikh Nasser
HM the King's Representative for Humanitarian Work and Youth Affairs, HH Shaikh Nasser bin Hamad Al Khalifa, on Wednesday held a virtual meeting with the First Deputy Chairman of the Supreme Council for Youth and Sport (SCYS), General Sports Authority Chairman and Bahrain Olympic Committee (BOC) President, HH Shaikh Khalid bin Hamad Al Khalifa, SCYS Secretary-General, Shaikh Salman bin Ibrahim Al Khalifa, and Youth and Sports Minister, Ayman bin Tawfiq Al-Moayyad.
HH Shaikh Nasser asserted that the Bahraini sport is on the right track of development thanks to His Majesty King Hamad bin Isa Al Khalifa's constant care, noting that thanks to the unwavering royal support, the Bahraini sport has attained innumerable remarkable achievements over the past years.
HH Shaikh Nasser also highlighted HM the King's keenness to enhance the administrative development for the Bahraini sport, citing the issuance of a royal order, establishing the General Sports Authority.
HH Shaikh Nasser congratulated HH Shaikh Khalid bin Hamad on the precious royal trust bestowed upon him by appointing him as Chairman of the General Sports Authority, expressing confidence in HH Shaikh Khalid's ability to bring about more achievements for the Bahraini sport through a number of initiatives, plans and legislation that keep abreast of global sports developments, which will make Bahrain a youth and sports capital.
HH Shaikh Nasser said that the General Sports Authority will be the sole organiser and regulator of the sports sector, as well as and the only communication link among the bodies working in the sports sector, namely the Bahrain Olympic Committee, the Paralympic Committee, sports federations and national clubs, adding that all sports entities will have to implement the General Sports Authority's strategies.
HH Shaikh Nasser commended the efforts being exerted by those in charge of the sports sector to consolidate institutional work and embody the "Gold" principles, through competitiveness, fairness and openness.
HH Shaikh Khalid bin Hamad lauded HH Shaikh Nasser's interest in the sports sector, which has contributed to achieving landmark accomplishments at all levels, stressing the General Sports Authority's keenness to implement HH's directives to launch more initiatives aimed at regulating the sports sector, consolidating institutional work and paving the way for athletes to attain more accomplishments for Bahrain at various sports gatherings.
He said that the General Sports Authority will build on the existing achievements and bring about more, through unifying the efforts of all sports entities and organising them in a modern manner that copes with the global sports developments.
Based on HH Shaikh Nasser's directives, Shaikh Salman bin Ibrahim Al Khalifa gave a presentation including a plan to develop the Bahrain Olympic Committee, ways to embody the "Gold" principles and a plan to finance the national teams in order to enable them to attain more achievements at the upcoming championships.
HH Shaikh Nasser praised Shaikh Salman bin Ibrahim's presentation, noting that the plans embedded in it will contribute to developing the Bahrain Olympic Committee in the administrative, technical and financial fields. He asserted that the distinguished presentation on BOC's development plan reflects Shaikh Salman bin Ibrahim's great experience.
Concluding the remote meeting, HH Shaikh Nasser appreciated the efforts exerted by the sports sector's officials in order to implement strategies and plans aimed at developing the sports system in the kingdom.
EU agrees to add Japan to safe travel list, holds off on Britain
European Union governments agreed on Wednesday to add Japan to their small list of countries from which they will allow non-essential travel, while holding off until at least mid-June for British tourists, EU sources said.
Ambassadors from the EU's 27 countries approved the addition of Japan at a meeting on Wednesday, with the change to take effect in the coming days.
EU countries are recommended gradually to lift travel restrictions for the current seven countries on the list – Australia, Israel, New Zealand, Rwanda, Singapore, South Korea and Thailand. Individual EU countries can still opt to demand a negative COVID-19 test or a period of quarantine.
The EU last month eased criteria for adding new countries to the list, by changing to 75 from 25 the maximum number of new COVID-19 cases per 100,000 people in the previous 14 days.
Britain met that revised target but was left off the list because of an increase in COVID-19 cases arising from an infectious coronavirus variant first identified in India.
Britain recorded no COVID-19 deaths on Tuesday, for the first time since March 2020, but cases of the Indian variant doubled last week and the government has said it is too early to say whether Britain can fully drop restrictions on June 21.
EU diplomats said Britain could be added to the list, depending on the course of the variant, in mid-June, when a larger group of countries are expected to be considered.
The list is designed to eliminate inconsistency of travel restrictions across the bloc. France and Germany have imposed quarantines on UK visitors and Austria banned British tourists, while Portugal and Spain now welcome them.
Meanwhile, Britain advises against travel to all EU countries except Portugal and only exempts people coming from Portugal from a requirement to quarantine. (Reuters)
Oil spill fears as ship sinks off Sri Lanka
A chemical-laden cargo ship is sinking off the coast of Sri Lanka, sparking fears of an environmental disaster. The Singapore-registered X-Press Pearl had been on fire for almost two weeks before the blaze was put out this week. Hundreds of tonnes of oil from fuel tanks could leak into the sea if it sinks, devastating nearby marine life.
The Sri Lankan and Indian navies had worked jointly over the past days in an attempt to put out the fire and prevent the ship from breaking up and sinking. But rough seas and monsoonal winds hampered the operation, just outside the port of Colombo.
Dr Perera said divers should have been sent down to examine the ship before it was towed out to sea. "The environmental issues will remain in our waters now," she added.
The coastal stretch near the city of Negombo – home to some of the country's most pristine beaches – has already seen oil and debris pollution for days. Meanwhile, the fisheries ministry said emergency measures were in place to protect the Negombo lagoon and surrounding areas and all fishing from Panadura to Negombo had been suspended.
Sri Lankan officials believe the fire was caused by a nitric acid leak which the crew had been aware of since 11 May. The ship was carrying 25 tonnes of the highly corrosive acid, which can be used in the manufacture of fertilisers and explosives.
Read & Watch the latest news happening around the World with one Click – "STARVISION NEWS 3D PRO (3 June 2021)"