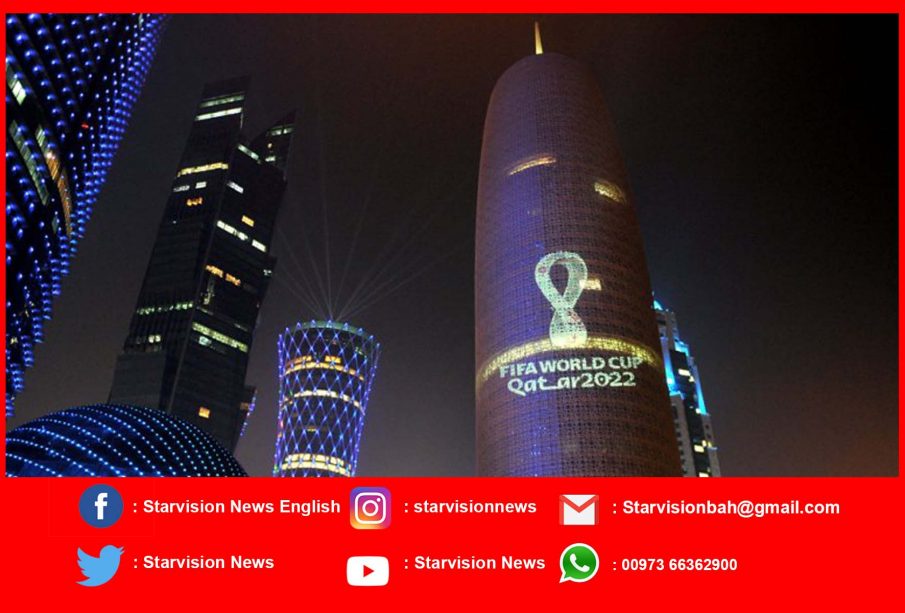 As jubilant citizens and expatriates celebrated the launch of the official emblem of the FIFA World Cup Qatar 2022  unveiled digitally across the globe yesterday, the diplomatic fraternity congratulated the country's leadership saying the logo symbolizes the legacy of the country and game of football. Heads of diplomatic missions also expressed their trust that Qatar would hold the best-ever FIFA World Cup in 2022. They also extended support of their countries to Qatar to make the tournament a success. Chief of Mission and Chargé d'Affaires of the United States in Qatar William Grant, on his twitter account said (in Arabic and translated): "I congratulate the Amir of Qatar, HH Sheikh Tamim bin Hamad Al Thani, the government and the people  on the unveiling of   Qatar's Official World Cup 2022 emblem."
He further said: "We expect a great tournament and we hope the US national team will qualify for the 2022 World Cup in Qatar and we hope that our team will achieve more than qualifying. The tournament will create a lasting legacy for Qatar, the Middle East, and the world. Congratulations to Qatar." Ambassador of Turkey to Qatar, Fikret Ozer, talking to The Peninsula, said: "The official unveiling of the emblem of FIFA World Cup Qatar 2022 has also been projected at the number of places in Turkey. The emblem is attractive. We share with Qatari government and Qatari people the joy of this official launch of the logo and hope that all preparation will go well." The Turkish Ambassador added: "Anyone who follows Qatar's preparations for the World Cup believes that Qatar is well-prepared to organize FIFA World Cup Qatar 2022 the best possible way and all facilities for the tournament have been built as per international standards."
Ozer said that he was very confident that Qatar will be able to organize the tournament that would be remembered for years. "Qatar's hosting of this tournament is an achievement not only for Qatar but also for all Muslim countries and the Middle East region," the Ambassador said. Commenting on the official launch of Qatar 2022 emblem, Ambassador of the People's Republic of China to Qatar, Zhou Jian, said: "Congratulations to the stunning debut of the 2022 World Cup logo. It is an extraordinary design which also coincides with Chinese culture."It resembles a knot in looking, which implies unity in Chinese. It is also in the shape of 8. 8 in China is a number of prosperity and development. For this, we heartily wish that the Qatar 2022 World Cup will be a gathering of unity and success, one that will bring more peace and development to the world."
Fernando de Castro, Chargé d'Affaires of Spain said: "As a country of football, Spain is very proud to take part in such a milestone in Qatar's road to 2022. The emblem projected in our perpetually crowded square of Callao, a ceaselessly moving and changing place at an intersection crossed by millions of people every year, in the very heart of Madrid." He added: "We believe that Callao symbolizes FIFA World Cup Qatar 2022 philosophy: an unparalleled meeting point of cultures. We are sure that the upcoming World Cup will be a great success for the country, and we wish Qatar all the best!" Commenting on the unveiling of Qatar 2022, the Chargé d'Affaires of the Embassy of France to Qatar said, "Three years before the FIFA World Cup Qatar 2022, this is a great moment for Qatar and a milestone on the road towards 2022. This logo testifies to the journey made to this day and gives body to the efforts of Qatar to prepare the World Cup. France is alongside Qatar for the success of this worldwide event."
P Kumaran, the Ambassador of India to Qatar, said: "We are excited at the unveiling of the 2022 FIFA World Cup logo. I am happy that a prominent building in Mumbai was chosen as one of the 20 locations for the launch." He said that Qatar's preparations for the World Cup and the development of the necessary infrastructure were moving ahead briskly. "If past events are any indication, I do not doubt that the World Cup in Qatar will be an exemplary spectacle. The Indian community in Qatar wishes Qatar the best and is happy to extend all possible support to the Qatari authorities for the successful hosting of the World Cup." Syed Ahsan Raza Shah, Ambassador of Pakistan to Qatar, said: "On behalf of the people and government Pakistan we at the Embassy of Pakistan, Doha congratulate the brotherly people of the State of Qatar on the occasion of the unveiling of the official logo of the FIFA World Cup 2022."
"This marks an important milestone in Qatar's extraordinary and proud journey to host the event. It is a testament to the hard and incredible work that has gone into the preparations of the World Cup," Raza Shah said, adding: "Qatar will host the most successful FIFA World Cup ever. The people of Pakistan assure our Qatari brethren of our fullest support and cooperation in making the World Cup 2022 a great success." Ambassador of Peru to Qatar, Jose Benzaquen, said that the unveiling of the emblem of FIFA World Cup Qatar 2022 was a great thing and an important occasion for Qatar. "The emblem is ice," he added. He said that Qatar would organize a world-class football tournament in 2022. "Excellent preparations for Qatar 2022 are going on in the country." The Ambassador said that Qatari people loved sport, therefore, he was sure that Qatar would organize a very good sporting event in 2022.
Ambassador of South Africa, Faizel Moosa said: "As South Africans, we are extremely honored by the fact that Qatar through the Supreme Committee for Delivery and Legacy (SC) has chosen South Africa as one of the 20 countries to launch its 2022 world cup logo." "As a country which has hosted the world's most spectacular event in 2010, we pledge our full support to the friendly nation of Qatar and are confident that Qatar will host an extremely successful and impressive event. South Africa offers its full support, experience, and knowledge to the Supreme Committee for Delivery and Legacy as we consider our friendly relations with the State of Qatar to go from strength to strength," the South African Ambassador further said. He said that the South African community in Qatar stood ready to add value to Qatar 2022 as a nation that had the necessary experience and the most capable volunteers.
Ambassador of Ecuador to Qatar, Ivonne A-Baki said: "Today I am glad to witness the unveiling of Qatar's official World Cup 2022 emblem which is celebrated simultaneously in many major cities around the world. This is indeed an extreme source of pride for the citizens and residents of the State of Qatar. It genuinely and profoundly reflects the sublime guidance and wise visions of Amir HH Sheikh Tamim bin Hamad Al Thani and Father Amir H H Sheikh Hamad bin Khalifa Al Thani." She further said: "Also, I am very impressed with the concept of the motto as it highlights Qatar's environment with a modern touch in such a picturesque design. Indeed, this iconic and marvelous design is a rare gem that will be never forgotten by the Arab world and the international community." Rashad Ismayilov, Ambassador of Azerbaijan to Qatar, said: "I congratulate Qatar's leadership and its people on official unveiling of FIFA World Cup Qatar 2022 logo.
No doubt, it is a moment of pride for the whole nation as they are moving forward to materialize the dream of organizing the most prestigious sporting event of the world. Qatar is doing excellent preparations for Qatar 2022 and I am confident that FIFA World Cup Qatar 2022 will be an outstanding sporting event in which fans from all over the world will witness spectacular games." Avazbek Atakhanov, Charge d'Affaires of the Kyrgyz Republic in Qatar, said that he liked Qatar 2022 logo. "It is unique and very beautiful. The logo shows today's harmonic diversity." He said that the preparations for FIFA World Cup Qatar 2022 were excellent. "My expectations for the 2022 World Cup in terms of quality and standards are very optimistic.  I believe Qatar will demonstrate high class and the 2022 World Cup will be the best championship in football history."
Follow us on Twitter – twitter.com/StarvisionN
Like & Follow us on Facebook – www.facebook.com/starvisionnewsenglish