Bahraini Ambassador to UK hosts dinner banquet for Saudi, UAE ambassadors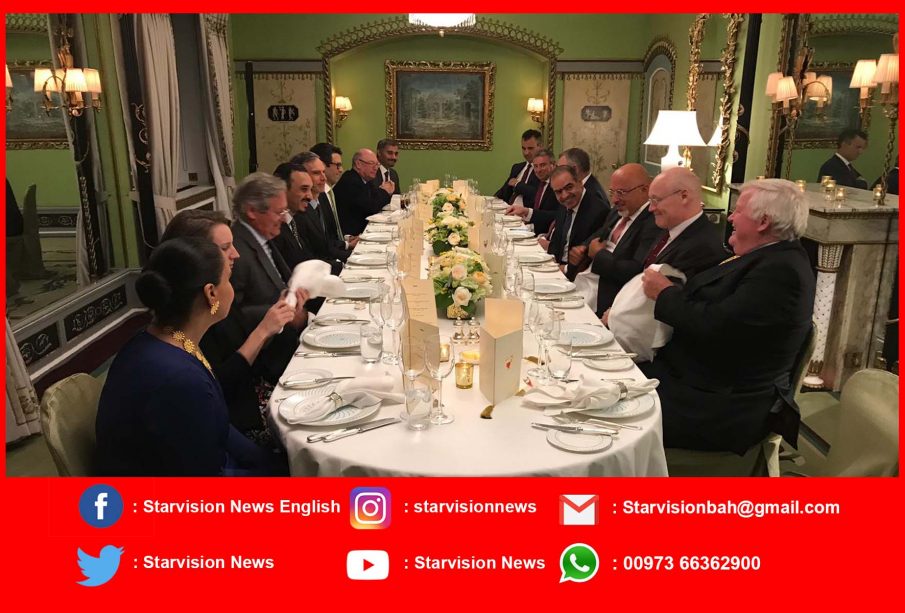 The Ambassador of the Kingdom of Bahrain to the United Kingdom, Shaikh Fawaz bin Mohammed Al Khalifa, hosted a dinner banquet in honour of the ambassadors of the Kingdom of Saudi Arabia and the United Arab Emirates to Britain, His Royal Highness Prince Khalid bin Bandar bin Sultan bin Abdulaziz Al Saud and Mansour Abdullah Khalfan Belhoul. A large number of ministers, MPs, ambassadors, media, and friends of the Kingdom of Bahrain attended the dinner banquet. These included the Minister of State for the Middle East and North Africa Affairs at the British Foreign Office, Dr. Andrew Morrison, Former Minister of State for the Middle East at the Foreign and Commonwealth Office and Minister of State at the Department for International Development, Alistair Burt. There were also the Minister of State at the Department for International Trade, Conor Burns, former Minister for Commerce and Trade, MP Liam Fox, MP Nadim Zahawi and Member of Parliament and Chair of the Bahrain-UK Parliamentary Group, Colonel Bob Stewart.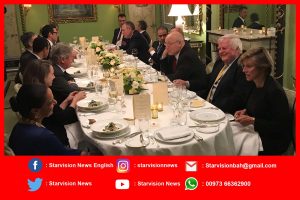 Also attending were Lord Richard Lowes, Defense Adviser for the Middle East, MP Rehman Chishti, Director General of the International Institute for Strategic Studies, Dr. John Chipman, Director of the Conservative Middle East Council, Charlotte Leslie, as well as a number of senior personalities and British government officials. In his welcoming speech, the ambassador stressed the depth of the friendly relations between the UK and the Arab countries, in general, and the Gulf Cooperation Council (GCC) countries in particular. He affirmed that the GCC countries seek to strengthen bilateral relations through a range of measures, including the increase of traded exchange and promotion of tourism and direct investment for the benefit of all parties.
He wished the newly appointed ambassadors success in their mission and asserted that their experience would be unique and successful for all sides amid the great support exhibited by the UK Government. On the sidelines of the dinner, Colonel Stewart expressed his thanks and appreciation to the Ambassador for his good initiative to introduce the Saudi and UAE ambassadors. He vowed to expand the existing distinguished cooperation with them along with the excellent cooperation by the Ambassador and the Embassy of the Kingdom of Bahrain to the United Kingdom, which is he described as a model in interaction with MPs and politicians, as well as with British research and media centers.
Follow us on Twitter – twitter.com/StarvisionN
Like & Follow us on Facebook – www.facebook.com/starvisionnewsenglish